If you've ever tuned into an episode of "Say Yes To The Dress," you are more than familiar with the bridal stylings of Pnina Tornai. And if not, well, you're about to be.
Perhaps one of the industry's most infamous wedding dress designers, Ms. Tornai has managed to carve a spot all her own thanks to her love of sheer corsets, overloaded bling, and massive pouffy skirts.
The Pnina bride is definitely not every bride -- she's fearless, confident, and isn't afraid to show a little (or a lot of) skin. And when it comes down to it, she just wants to make a statement, and that's exactly what an original Pnina creation can help her do.
Over the years, we've seen the designer release some pretty crazy gowns, and today, we'd like to commemorate them. From the blinged out to the super sheer, here's a look at some of her most outrageous gowns to date. And we bet there's plenty more to come!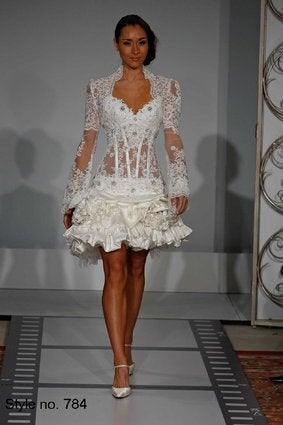 Pnina Tornai's Most Outrageous Wedding Dresses