Calgary's battle against fallen trees, branches and debris continues.
City landfills have been teeming with activity this weekend, as Calgarians recover from a surprise summer snowstorm that walloped the city earlier this week.
Thousands of trees fell or were splintered, after wet, heavy snow won the battle.
Dave Griffiths, director of waste and recycling services, told the Calgary Sun the drop-off depots will remain open until at least November 9.
Story continues after the slideshow.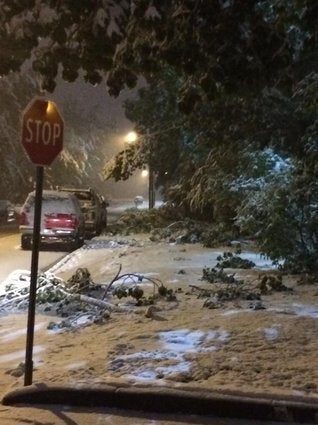 Calgary Trees Downed During September Storm
Tipping fees at all landfills have been waived for all tree debris that is not mixed with other garbage.
Homeowners are expected to clean up their properties, but elderly Calgarians and those with disabilities can call 311 and describe their situation, says the city.
Citizens can pile tree branches that are no longer than four feet in length on front curbs or boulevards as long as they do not impede sidewalk or laneway access. Crews will be around collect these piles in the coming weeks.