Don't even think about stepping foot in one of Calgary's 3,000 parks, warns the city.
Calgarians are being asked to respect the closure of all city parks while crews work to clean up and assess damage from the surprise winter snowstorm that hammered the city last week.
The parks department estimates half a million trees on city property were damaged in the storm, after heavy snow caused branches and limbs to snap and break.
Using an anology Calgarians are all too familiar with, Todd Reichardt with the city's parks department compared the dangers that hang overhead to a "raging river."
Story continues after the slideshow.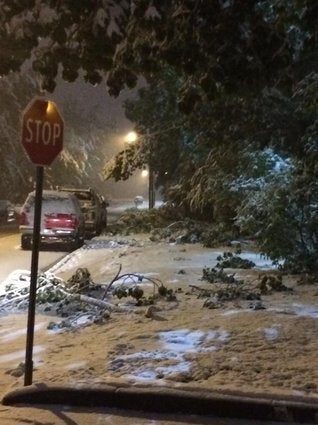 Calgary Trees Downed During September Storm
The city has confirmed it could take more than six weeks to clean up the tree debris left on sidewalks and roads around Calgary.
Perhaps the one upside to the monstrous mess caused by the storm is the opportunity to collect free firewood.
Nenshi suggested the parks department make it easier for Calgarians to stock up on wood, as well.
"If they're cutting the stuff down and it's going to be some while before it gets chipped, we might want to think about stacking it at the entrance to the park and see if anyone wants it," Nenshi said.
More than five million kilograms of tree debris have been collected as of Sunday, says waste and recycling services director Dave Griffiths.