An Edmonton woman is in hospital after she was attacked by a pack of dogs in a north alley Sunday morning.
The 54-year-old woman was walking her dog in an alley near 112 Avenue and 101 Street when she was mauled by several dogs.
"I ran out there and tried to spook the dogs," Christensen said. "I ran up and shook my hands and yelled at the dogs."
Eventually, Christensen was able to get into his car and drive over to the woman, helping her and her dog into the car until first responders arrived.
"As far as I'm concerned, he saved her life," Edmonton police Staff Sgt. Randy Wickins told CBC News.
Aaron Copeland, owner of the dogs that attacked the woman, told Metro his dogs — three Akita-Staffordshire Terriers and one Great Pyrenees Labrador cross — are usually very friendly and he doesn't understand why the attack happened.
"It's really baffling to me because my dogs have never ever done any aggressiveness towards people," Copeland said. "Towards themselves they've always played and wrestled like dogs do, but I've never ever had an issue like this," he told CBC News.
Police say the dogs have been apprehended. It is not yet known whether charges will be laid.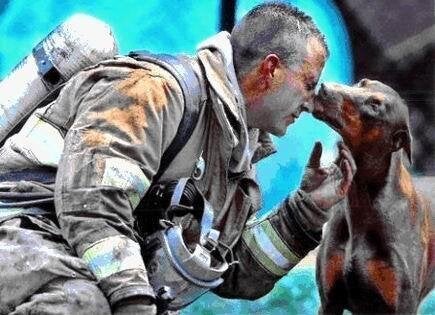 20 Moving Encounters Between Grown Men And Dogs