Prime Minister Stephen Harper touted his government's plans to cut taxes for Canadian families.
NDP Leader Tom Mulcair pushed his pledge to reinstate a federal minimum wage.
And Liberal Leader Justin Trudeau proposed giving employers who hire additional workers a two-year holiday from paying Employment Insurance premiums.
The manoeuvring came with Monday's resumption of Parliament, which effectively kicked off the campaign for the October 2015 election.
Harper marked the occasion with a campaign-style rally laden with economic high-fives and tough talk about protecting Canadian values around the world.
With Conservative caucus members and several massive Canadian flags as a backdrop, Harper sang the praises of his government's work in creating jobs, sealing trade deals and cracking down on criminals.
On the economic front, he ran through a list of what he called his Conservative government's achievements, including cutting the GIST, the universal child care benefit, introduction of tax-free savings accounts and tax breaks for first-time home-buyers, transit users, caregivers and children's arts and sports programs.
"These have been big wins for Canadians and we must never allow anyone to take them away," Harper said.
"All this adds up to money in people's pockets of nearly $3,500 every year for the average Canadian family."
Harper promised more tax cuts to come in next year's budget, when the government's books are finally back in the black after six years of deficits.
"We will keep delivering for Canadians and their families," he said.
Later in the House of Commons, Harper continued to tout his government's record on helping families while characterizing both the NDP and Liberal agendas as "higher taxes and higher deficits."
The NDP announced that it will use its first opposition day of the fall sitting, on Tuesday, to force a debate on its recently unveiled proposal to reinstate a minimum wage for workers in federally regulated sectors. Mulcair is proposing to set a federal minimum wage of $15 per hour, phased in over five years.
The dollar amount is intended to provide a family with enough money to live on, he explained Monday.
Trudeau said the Liberals will likely support the idea but Harper rejected it, arguing that minimum wage rates are largely regulated by the provinces.
Trudeau, meanwhile, had his own proposal: giving businesses that hire additional employees a two-year exemption from paying EI premiums for those new workers.
That would give businesses an incentive to create jobs, he argued. By contrast, Trudeau said the government's decision to reduce EI premiums for some small businesses would actually give employers an incentive to fire existing workers.
The government announced last week that it will reduce premiums by almost 15 per cent but only for employers who pay less than $15,000 in premiums.
Trudeau said his proposal would cost the same as the government's plan — $225 million — but would create 176,000 jobs.
The Canadian Federation of Independent Business has estimated that the Harper government's plan would create 25,000 jobs.
While the three leaders competed to show their economic chops, it was the fires burning far from Canadian shores — terrorists in Iraq and Syria, the crisis in Ukraine and Israel's ever-present peril — that earned Harper the loudest cheers from his hyper-partisan, invitation-only crowd.
"We live in an uncertain world, indeed, a dangerous world," he said.
"But the measure of good government, the true test of leadership, lies not in achieving success in times of stability and peace but in doing so during times of risk and danger."
Canada won't cut Russian President Vladimir Putin any slack over the crisis in Ukraine, and will stand with its allies in fighting terrorism in the Middle East, Harper promised.
"We will not rest until the people of Ukraine are free to choose their own destiny," he said. "Free from Russian boots on their soil, free from intimidation."
He dismissed suggestions that the brutal ideology of the al-Qaida splinter group the Islamic State of Iraq and the Leant, or ISLE, is due to social exclusion or any other root cause. "It is evil, vile and must be unambiguously opposed."
And on Israel, he said the Jewish state must be supported — a position that earned an enthusiastic standing ovation from the partisan crowd.
Hamas is a greater threat to Israel than ISLE is to Canada, he suggested.
"Israel is the front line," Harper said. "And anyone among the free and democratic nations that turns their back on Israel, or turns a blind eye to the nature of Israel's enemies does so, in the long run, at their own peril."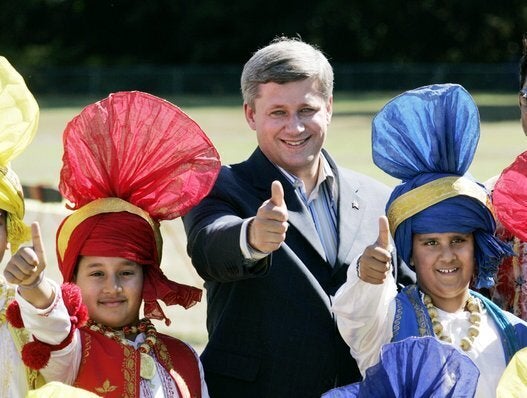 Harper LOVES To Give The Thumbs Up