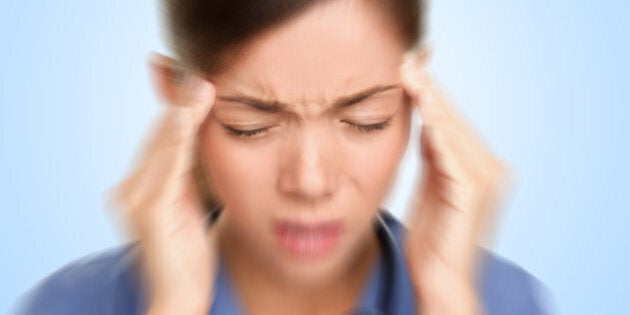 Sufferers of migraines could find more than just solace but actual relief in meditation, according to a small new study out of Wake Forest Baptist Medical Center.
"Stress is a well-known trigger for headaches, and research supports the general benefits of mind-body interventions for migraines," outlined Rebecca Erwin Wells, M.D., assistant professor of neurology at Wake Forest Baptist and lead author of the study. "But there hasn't been much research to evaluate specific standardized meditation interventions."
The goal of the study was to examine the effects of a standardized meditation and yoga intervention on migraine sufferers called mindfulness-based stress reduction (MBSR).
The participant group of 19 was divided into a test group of 10, who received the intervention, and the remaining nine made up the control group who continued using standard medical care for migraines.
For a period of eight weeks, the test group reported for weekly training sessions and were instructed to practice 45 minutes on their own a minimum of five additional days each week.
Researchers evaluated participants using objective measures of how their migraines affected their health and quality of life before and after the trial and each subject logged migraine occurrence throughout the intervention.
The test group had made more progress toward overcoming migraines, having an average of 1.4 fewer migraines per month with reduced severity and duration.
"Secondary effects included headaches that were shorter in duration and less disabling, and participants had increases in mindfulness and self-efficacy -- a sense of personal control over their migraines," said Wells. "In addition, there were no adverse events and excellent adherence."
Having concluded that MBSR intervention is safe and effective, further research with larger participant groups is being planned.
"For the approximate 36 million Americans who suffer from migraines, there is big need for non-pharmaceutical treatment strategies, and doctors and patients should know that MBSR is a safe intervention that could potentially decrease the impact of migraines," Wells said.