OTTAWA — The Conservative government may announce personal tax cuts as early as this fall, Prime Minister Stephen Harper suggested in a speech Monday.
Speaking to Conservative MPs, senators, their staff, industry lobbyists and some party members, Harper said he was looking forward to "the economic and fiscal update this fall, when we will be taking the first steps in the next part of a Conservative plan for Canadians."
"A balanced budget will allow us to continue delivering lower taxes for Canadians," he also said.
Several high-placed Tory sources told The Huffington Post Canada that the Prime Minister's Office is toying with the idea of delivering tax cuts ahead of schedule, although two sources stressed that nothing has been decided.
Another Tory source, however, suggested that the Conservatives plan to announce tax cuts earlier to allow Canadians to get used to them and then, during the election campaign in 2015, threaten that the Liberals and NDP will take them away.
In 2011, the Conservatives suggested that Liberal support for a national day-care plan meant that a Grit government would reverse the Tories' $100-a-month child care allowance.
In Question Period on Monday, Harper said Liberal Leader Justin Trudeau's plan involves "higher taxes and higher deficits." The Prime Minister also accused the NDP of voting against every idea unless it is about more taxes.
In his speech and in the House of Commons, Harper repeatedly stressed that his government has done a lot to help Canadians, such as: introduce the Universal Child Care Benefit, cut the GST, introduce a tax-free savings account and allow income splitting for seniors.
"These four things … have been big wins for Canadians," Harper said. "And we must never allow anyone to take them away!"
Harper suggested that other parties would raise taxes, accumulate more debt or "funnel big envelopes of cash to interest groups."
The Prime Minister had previously said tax cuts would be coming after the federal government balanced its books in 2015 – something that he said Monday is "on schedule, just as we promised."
In a campaign-style speech, Harper, accompanied on the floor of the Ottawa Convention Centre by his wife, Laureen, appeared comfortable and casual, speaking without the aid of the traditional teleprompter.
Harper said the Conservatives will focus on law and order issues, noting that they will introduce legislation to ensure that a criminal's life-sentence actually means he or she will spend life behind bars. He repeated pledges to end paper billing surcharges and allow Canadians to pay for unbundled cable and satellite television service, and also pledged to fight any tax on services such as Netflix or YouTube.
Harper pledged more tough talk against Russian President Vladimir Putin, who, he said, invaded Ukraine. He also said Canada would fight against the Islamic State of Iraq and the Levant (ISIL) and equated Canada's fight against ISIL with Israel's fight against Hamas, pledging continued and unambiguous support for the Jewish state.
Harper also praised his government's own record in signing a record-setting 38 free-trade agreements.
He also stressed the party's record of creating jobs – nearly 1.1 million overwhelmingly private-sector full time jobs, he said – and cutting "tens of thousands of dollars" in taxes during hard economic times.
"The true test of leadership lies not in achieving success in times of stability and peace," he said, "but doing so during times of risk and danger."
"The best is yet to come," Harper promised.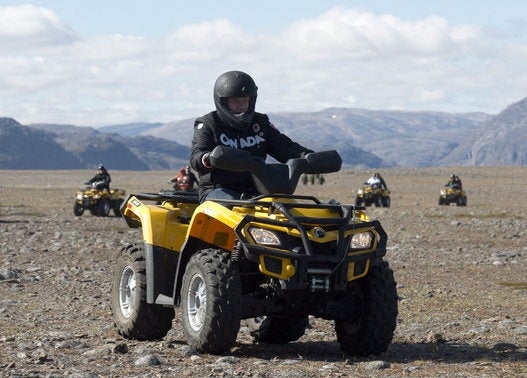 Harper's 2014 Arctic Tour