Canadian universities once again rank among the world's best post-secondary institutions, with five of its schools in the top 100.
QS World University Rankings has released its list of the best schools on the planet and the University of Toronto (U of T) and McGill stand head-and-shoulders above all other Canadian institutions in 20th and 21st place, behind Cornell University at 19th.
But those aren't the only Canadian universities that rank with the world's best. Also making the top 100 were the University of British Columbia (UBC) at 43rd, l'Université de Montréal at 83rd and the University of Alberta at 84th.
Though a recent survey found employers don't necessarily care about a school's reputation, students continue to put a lot of stock in these numbers.
The U.S. and U.K. took the lion's share of the rankings, with Massachusetts Institute of Technology (MIT) and Harvard at numbers one and four, respectively, and the University of Cambridge, Imperial College London and University of Oxford ranking second, third and fifth.
U of T, UBC and McGill also made the top 100 on the Academic Ranking of World Universities 2014 list last month.
QS explains its methodology as follows.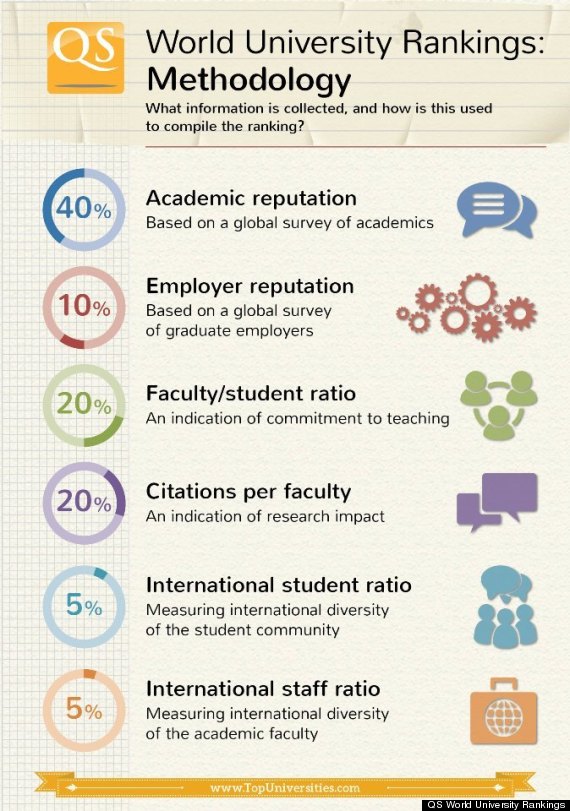 Here are the top universities in Canada and their scores, as ranked by QS:
Like Us On Facebook

Follow Us On Twitter

ALSO ON HUFFPOST: