Krispy Kreme is paying tribute to Hollywood's sweetest, and perhaps most likeable, paranormal villains with the release of two marshmallow-filled donuts to help mark the 30th anniversary of the "Ghostbusters" movie franchise.
"Ghostbusters" fans will no doubt recognize the friendly -- but treacherously villainous -- smile of the Stay Puft Marshmallow Man in the first of two donuts, a marshmallow Kreme-filled shell topped with white icing and blue sailor's hat.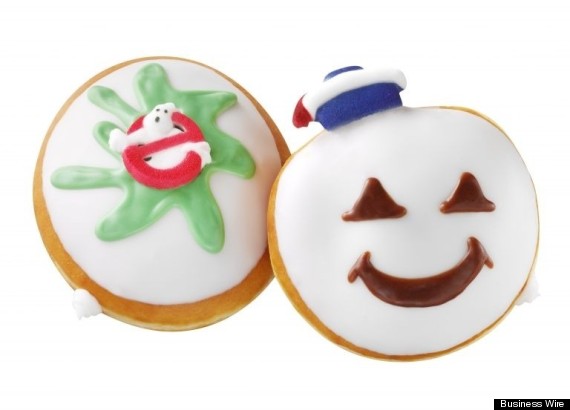 The Ghostbusters Donut is likewise filled with a marshmallow Kreme filling, and is topped with the signature logo featuring the friendly green ghost, Slimer.
The donuts will be available between September 29 and October 31 across Canada and the US.
Sony Pictures Entertainment has also tapped toy maker Mattel and clothing brand Uniqlo in similar collaborations.
To celebrate the film's 30th anniversary, the studio restored and remastered the original version from 1984 for re-release in theaters across the U.S. and Canada.
Meanwhile, director Ivan Reitman's newly opened Toronto restaurant, Montecito, is serving up "some kind of exploding marshmallow thing" dessert.
The Blu-ray edition of "Ghostbusters" is out September 16.
ALSO ON HUFFPOST: