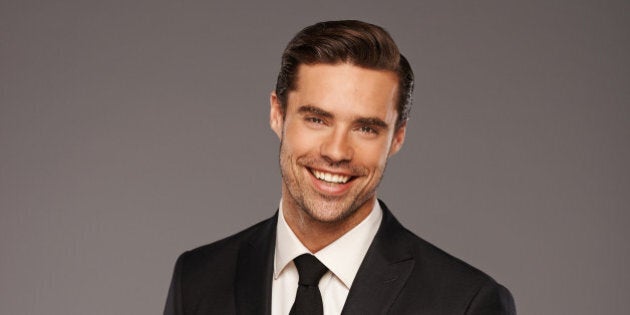 Longtime American fans of "The Bachelor" might be questioning their commitment to the franchise thanks to recent contestants like Juan Pablo Galavis, who refused to say "I love you" to Nikki Ferrell and made headlines for slamming the idea of a gay Bachelor. It's a shame those viewers won't see Tim Warmels when he kicks off City's Season 2 of "The Bachelor Canada" on Thursday night. Their faith would probably be restored.
"Oh hell, I'm surprised there hasn't been a gay Bachelor already," Warmels says. "I think people would love that. I think it would be great."
When it comes to representing the franchise, the 28-year-old Campbellville, Ont. native is blissfully unaware of the weight that it carries. Having heard about the show through friends of the producers, he admits he watches little-to-no television in his spare time.
During this interview he had to confer with a City publicist if he was even allowed to discuss the staple "Home Visit" episode, after admitting his parents had initial hesitations about him doing the show. So the Juan Pablo controversy wasn't exactly something he was up-to-speed on when he agreed to become the next Bachelor Canada.
"I had heard of it, but nobody sat me down and was like, 'Here's what you don't do.' I'm not really involved in that world," he laughs. "I mean, I'll sit there in cafes reading Scientific American, not People Magazine. It's just not part of my life. And I think that actually gave me an advantage because it allowed me not to be biased towards anything else that actually happened. It allowed me just to do this the way that I wanted to do it and make it my own."
The entrepreneur, who seems to be a jack of all trades thanks to his writing, furniture building and business sense (he admits he drives a little "aggressively in the city" and perhaps only his shower thinks he's a good singer), knows one thing: he's ready to find a wife.
Unlike Canada's first Bachelor, Brad Smith, who admittedly went on the show to find someone to date long-term and not a wife, Warmels is ready to tie the knot if he finds the right girl.
"It was very difficult to leave some of my past relationships, because for that period in my life they were amazing relationships," he explains. "On a day-to-day basis they made me very happy. But knowing that I was willing to leave those relationships because I could tell that in the long distant future they wouldn't be leaving me satisfied, that's how I knew that I was very, very ready to get hitched!"
So what does the ideal girl look like for Mr. Warmels, the guy that does everything? According to him, hobbies and specific tastes don't necessarily apply.
"My ideal girl is somebody who is happy with herself," he reveals. "What you do on the weekends -- whether you like to sit in cafes, go to art shows, or go meet friends at a bar, or stay out late, or not stay out late, or eat out or cook in. That all doesn't matter, because I really try to keep an open mind about that kind of stuff. There's no ifs, ands or buts about it. I was looking at this as a very, very viable way to find somebody I would marry."
"The Bachelor Canada" debuts Season 2 on Thursday, Sept. 18 at 8 p.m. ET on City.