What's the Dark Knight doing in Cowtown during the light of day?
Hundreds of Nexen Energy employees dressed as Batman gathered in downtown Calgary as they set a Guinness World Record for most people masquerading as the Caped Crusader on Thursday, said a news release.
Nexen carried out the effort as a way to kick off its 2014 United Way campaign, which has the theme, "From Suits to Superheroes."
Record broken! 542 @nexenenergy staff came together to break the World Record for most people dressed as batmen! pic.twitter.com/VELOsQ0HKh

— Calgary United Way (@UnitedWayCgy) September 18, 2014
The stunt lit up social networks in Calgary on Thursday, with several people posting photos of the Batmen/women dancing at Century Park.
Holy Batmen, Batman! MT @yyccowguy: It's a party at the @nexenenergy @UnitedWayCgy kickoff event in #yyc. pic.twitter.com/36FJPB4QNY

— John Smiley (@MisterYYC) September 18, 2014
@nexenenergy staff #stepup in support of @UnitedWayCgy. From Suits to Super heros is this year's campaign theme. pic.twitter.com/nM1Hhkz3qV

— yyccowguy (@yyccowguy) September 18, 2014
542 Batmen set World Record in Calgary #yyc @DCComics @Calgaryexpo pic.twitter.com/21ufb6lImV

— Dave Ware (@Brickwares) September 18, 2014
Century Park Downtown. Literally hundreds of people all dressed as Batman, dancing... Because Calgary. #batman pic.twitter.com/YPDGmt1yy4

— Robert Vance (@ARobertVance) September 18, 2014
There are hundreds of dancing Batmen in downtown Calgary right now. pic.twitter.com/YuDEAKD3qK

— Matthew Hayles (@mathayles) September 18, 2014
Nexen bids for Batman world record to support United Way pic.twitter.com/EmS5kAbgVh /rather than give costume $ to United Way?

— Jason Markusoff (@markusoff) September 18, 2014
It isn't the first time that Nexen has set a Guinness World Record.
In 2011, employees with the oil and gas company set the record for biggest gathering of people dressed as Superman with 437 people in attendance.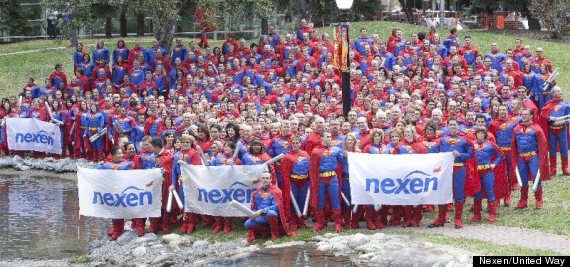 Nor is it the first time that Calgary has been associated with Gotham. Two years ago, Mayor Naheed Nenshi opened himself up to questions on Twitter, and one user asked what he would do if he were mayor of Batman's city.
The mayor tweeted out the following photo in the midst of questions about whether he would arrest Batman or condone the hero's vigilante activities.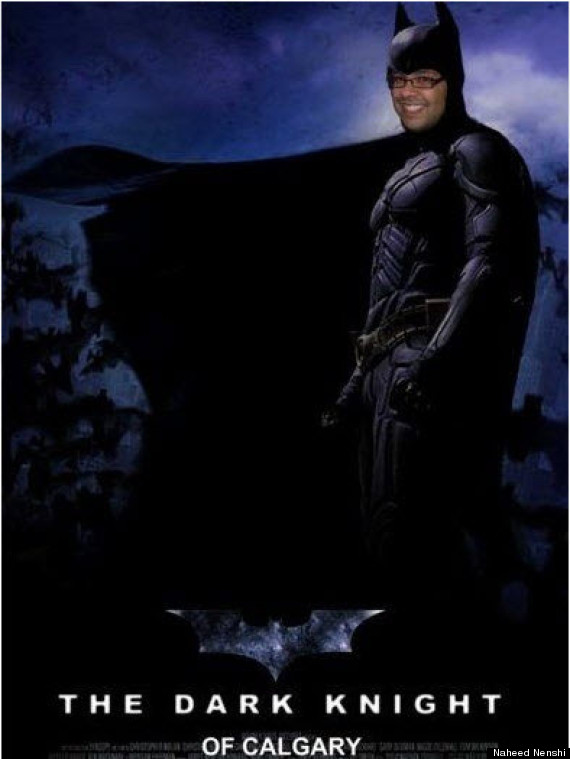 Thursday was, perhaps, a rare time when Batman's activities were actively encouraged.
Like Us On Facebook

Follow Us On Twitter

ALSO ON HUFFPOST: