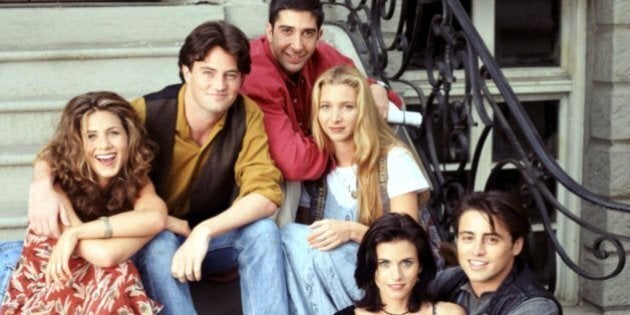 We can't believe it either but 20 years ago, on Sept. 22, "Friends" aired its first episode and 10 seasons later, we weren't ready to say goodbye.
Although there are countless memories that we'll never forget (#smellycatforever), it's the characters' fashion choices that still linger on in pop culture and on the runways today. (Remember when we said the '90s are back in a big way? Yeah.)
And so, we take a look back at the fashion lessons we learned from "Friends" (and it doesn't involve "The Rachel," thank goodness).
Story continues below slideshow:
1. Western Attire Is Always Fine
2. Plaid Pajama Pants Are The Only Valid Pajama Pants
4. The Louder The Coat, The Warmer The Person
As mentioned, Phoebe was kind of given the short end of the style stick—until we look at what she was wearing. Case in point: her orange coat, which may have seemed loud and over-the-top circa 1999-2000, but would now fit in perfectly among collections by Topshop and H&M, who are channeling those exact nineties qualities. Ultimately, Phoebe was just hipper than all of us.
5. All You Need Is One Good Bag
The world wasn't ready for Joey and his bag, which is a travesty since if he had the bag now, everybody would want it, too. Even though Joey's relationship with the bag was used as a joke, it arguably highlighted how uncomfortable some people are with those who don't abide by gender norms. Joey? He didn't care about his bag. Some of his friends, however, probably should've examined why they were so uncomfortable with him being well accessorized.
6. Shorteralls Are Comfortable And OK
7. Vintage Is Not Always Wonderful
8. Even An Eye Patch Works If You Have Confidence
To be honest, we're not sure if "wear velvet" is a lesson "Friends" taught us specifically because all TV shows in the nineties had to include at least some, or they would risk being cancelled. (We're making that up.) But if we have to use Phoebe's maternity clothes as an example of how velvet has a place for any moment or occasion, we will do it. So here we am, doing just that. (Even her purse is velvet! And not even of the same variety!)
10. Yes, You Can Wear Suspenders
You! Yes, you—because talk about kicking off the series with a bang: in the very first shot, we have Monica Geller not only embracing menswear, we've got her wearing suspenders. Real, live fashionable suspenders. Which, in theory, are horrible. But in practice? They work! Especially since the early nineties explored all aspects of kitsch and vintage revival, not just the seen-on-the-runways type. (Though yes, suspenders were at one point seen on the runway – see: Chanel. And now, on Rihanna.) Besides, we all know our true friends wouldn't lie about what to wear, anyway.