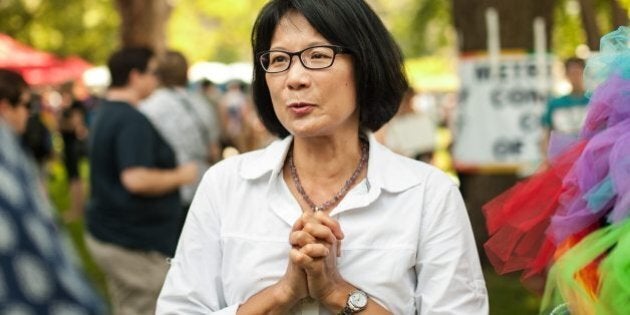 A Hamilton man is trying to figure out why Olivia Chow's mayoral campaign keeps asking him for donations in the mail – especially considering he can't vote in the upcoming Toronto election.
Anthony Marco has now received two unsolicited letters sent to his home in Hamilton asking for donations. The latest one showed up in his mailbox on Thursday.
Marco told CBC Hamilton that if he lived in Toronto, he'd likely vote for Chow – but he's still bothered by the "presumption" of the unsolicited mail.
"Or perhaps, even moreso that a left-leaning candidate I would support would waste money or presume that it's okay to draw resources from local support by these vast swath appeals to people outside of Toronto," he said. "Also, I don't know that my ideals match up with hers.
"I've never met her and I have no idea what her platform is or her ideals are, because, generally, I'm not concerning myself with who the mayor of Toronto is."
The letter is addressed as "from the desk of Stephen Lewis," and is stamped with the official Chow campaign logo as well as the campaign's website. Stephen Lewis was the leader of the Ontario NDP in the 70s.
The letter calls the last four years in Toronto as a "disgraceful travesty" before going on to ask for funding.
"$1000 will cost you only $425 after a rebate from the city [of Toronto], $1,600 is just $825, and $2,500 is $1,500 thanks to the city's funding of basic democracy," the letter reads.
Marco: 'Is it a big deal? No. Is it a bit tactless... yes.'
Olivia Chow mayoral campaign spokesperson Jamey Heath told CBC Hamilton that he "didn't know" why Marco had received the letters. "I can't answer your question because I don't know the person in question," he said.
Heath said the Chow campaign began its campaign with lists from a "variety of sources" to solicit donations, but wouldn't say where those lists came from. Marco says he has affiliations with labour, union and social justice groups at the provincial and federal level.
"It's not unusual for campaigns to solicit funds during elections in Ontario," Heath said, adding that it was possible that Marco went to an event Chow herself had been at in the past and signed up for a mailing list.
Marco says he has never been to an Olivia Chow-specific event, but has been at an event or two in the past where she also attended, but not since she gave up her federal seat.
"Is it a big deal? No," he said. "Is it a bit tactless, a bit arrogant, and a waste of money? Yes."
"It's yet another piece of junk mail in my mail box. I don't blame her. Such a strategy is likely the result of campaign organizers over-reaching because her opponents are getting huge money from business interests."
Earlier this month, Toronto Mayor Rob Ford endured a backlash after people living outside the GTA reported receiving unsolicited emails seeking campaign donations from his mayoral campaign.