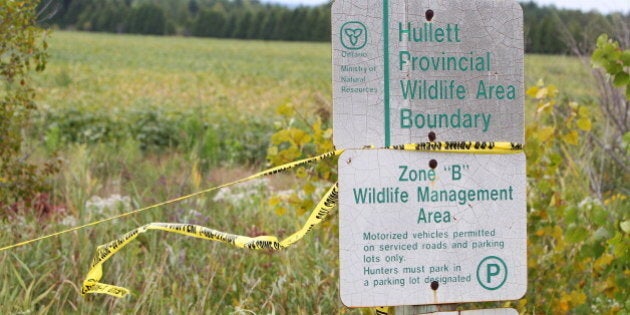 A 70-year-old man wanted in connection with the fatal shooting Sept. 13 of Don Frigo near Clinton, Ont., has been arrested and charged with first-degree murder.
Frigo, also 70, was shot to death while riding a horse with a female companion near the Hullett Conservation Area in the Municipality of Central Huron on September 13. The female victim was able to reach safety and suffered minor injuries.
On Thursday, OPP issued a Canada wide warrant for Boris Panovski, 70, from Scarborough, Ont.
He was arrested without incident Sunday as he re-entered Canada at Toronto's Pearson International Airport.
He has been charged with first-degree murder and attempted murder.
Frigo's female companion was also injured in the shooting. Police have not confirmed if she is Frigo's wife, but have said she is not a suspect.
Panovski will appear later Monday at the Ontario Court of Justice in Goderich.
Both victim and suspect liked hunting dogs
Frigo was a prominent member of Ontario's hunting dog community and was described as an avid outdoorsman.
"It's something he enjoyed doing, he enjoyed riding his horses, he enjoyed his dogs," Peter Naccarato, who worked with Frigo for 30 years, told CBC News last week.
Naccarato said he found out about Frigo's death when a hunting dog website posted a photo and a remembrance.
Panovski, who lives in Scarborough, also has an interest in hunting dogs.
Photos on what is believed to be Panovski's Facebook page show him handling the dog that won the 2005 National Open Shooting Dog Championship, a prominent dog show in the U.S. He was not the dog's owner.