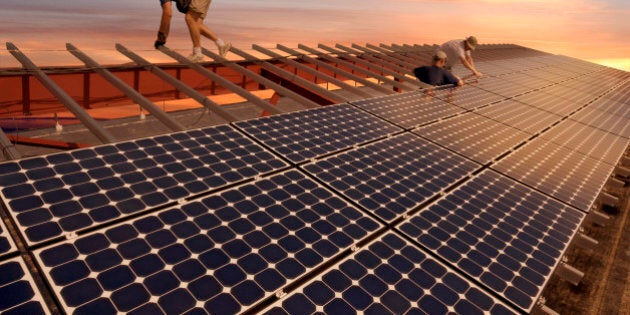 At a time when investment in clean energy technologies is growing worldwide, Canada is "looking the other way" and risks missing out on trade and growth opportunities, according to a new report from an advocacy group for green energy.
The study from Clean Energy Canada was released Monday to coincide with the United Nation Climate Summit in New York City. It says Canada spent $6.5 billion on the renewable energy transition last year.
That is minuscule compared to the $207 billion spent worldwide, including $55 billion in China alone.
While major trading partners such as China, the U.S., Japan and Germany are big spenders on wind and solar, both to reduce pollution and provide clean sources of energy, Canada is not developing its industries quickly enough to take advantage of the shift, the report says.
"While other economies have made clean-energy industries and services a trade priority, some of us cling to the notion that our carbon-based fuels constitute our only competitive advantage," the report says, referring to the federal government's trade agenda, which focuses heavily on oil.
China's imports of clean energy technology and services from Canada have tripled since 2001, to $63 million in 2011.
Plunging equipment costs, strong investor interest and good policy are driving a global shift to renewable energy sources such as wind, sun and water, the report said.
The report highlights some of the forces that are driving interest in green technologies, including the development of electric car technology, new green bonds and a commitment by multinationals such as Google, Starbucks and Ikea.
It also calls attention to the role of leadership. U.S. President Barack Obama's cleaner energy agenda and renewable targets in some states are bringing about a slow shift in energy use south of the border while B.C.'s carbon tax has reduced fuel use by 16 per cent.
Almost half the new electricity produced in Canada since 2000 is wind and solar because of heavy investment by Ontario and Quebec.
But microgrids, which encourage neighbourhoods to put solar panels on roofs and share resources locally, are facing legal and social barriers in Canada, the report said.
Canada also fails to take part meaningfully in international forums that could advance its clean energy trade interests, Clean Energy Canada said, citing the case of the International Renewable Energy Agency, which the country does not belong to.
Clean Energy Canada urged Ottawa to "play a constructive role in the Paris 2015 climate talks." Canada was shown as a laggard in cutting greenhouse gas emissions at the Copenhagen climate talks in 2009.
The group said Canada should be able to show progress in cutting back on emissions that cause climate change before the Paris talks.