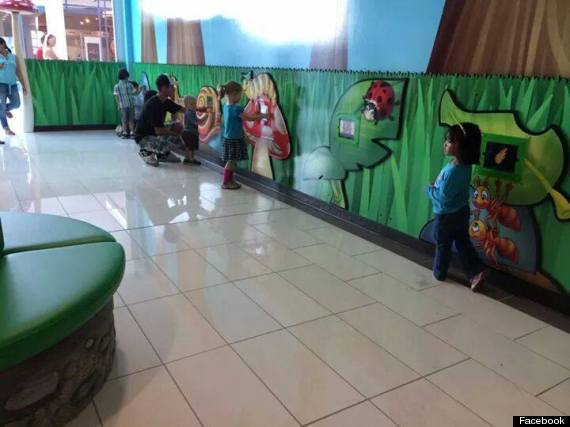 Parents in Surrey, B.C. are livid that a local mall replaced its indoor play area with a bank of iPads for kids.
Guildford Town Centre is nearing the end of a $280-million redevelopment. Part of that included removing some climbing structures, a small slide, and the carpeted area where kids could let off some steam.
This week, the mall debuted the new "interactive play park" to much criticism. The area now consists of several iPad stations mounted on a colourful wall, along with a few activity wheels for toddlers.
The mall's Facebook page has been inundated with negative feedback, and some parents have even started a group calling for the old equipment to be re-installed.
"My kids didn't like it. We are so disappointed," wrote Emilia Albezra. "Previous play park was much much better. I won't be back there any more."
Tara Bolin also commented: "We will not be coming to this horrible excuse of a play park. This will in turn limit my shopping at GTC."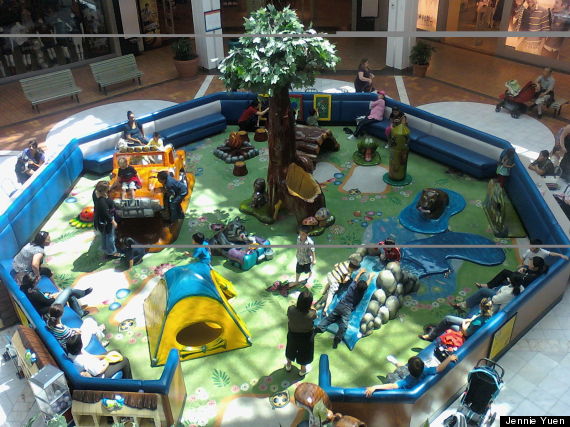 What the play area looked like before the upgrade. (Courtesy Jennie Yuen)
The mall responded: "We are pleased to offer a quiet play environment for children. In our experience, providing slides and things for climbing leads to much more active play and can result in children being hurt." It added that all the feedback would be shared with administration.
The explanation did not placate parents.
"This is the worst idea ever! WHY would you do this? Fear of personal injury liability? Your parking lot is more dangerous than a childrens PLAY area!" wrote Mike McLellan.
"You think slides and climbing leads to children being hurt wait till one fights the other for I pad time!" added Amanda Thomasen. "Where is the fun anymore? I won't be bringing my kids here."
Guildford Town Centre spokeswoman Petra Barker told Global News that the mall wanted to do "something different" and a bit "new and unique."
The old play park was donated to the Guildford Recreation Centre, across the street from the mall, Barker said.
Like Us On Facebook

Follow Us On Twitter
ALSO ON HUFFPOST:
$1-Million Playground In Richmond, B.C.