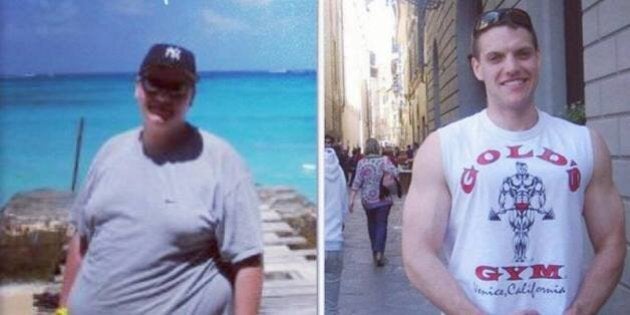 By The Numbers: 450 at my heaviest, currently 235, for a total weight loss of 215 pounds in 18 months. (My lightest weight, however, was 190, so a total of 260 pounds in weight loss.)
The Weight Gain: Growing up, many of my family members were overweight, so there was always an abundance of food in the house. In addition, I was always one of the taller kids and could hide my weight. Once the weight started to show, I was picked on by the other kids and resorted to eating to fill the void.
By high school I was 6'3" but well over 300 pounds, and it continued until my first year of university when I hit 450 pounds.
The Final Straw: A combination of self-interest and the help of my friend Jared Heft. He was really concerned for me and looked out for me. In addition, I wanted to really enjoy everything my school (Western University) had to offer.
Story Continues Below. Check out pictures of Matthew before and after, and more of our inspiring weight loss stories: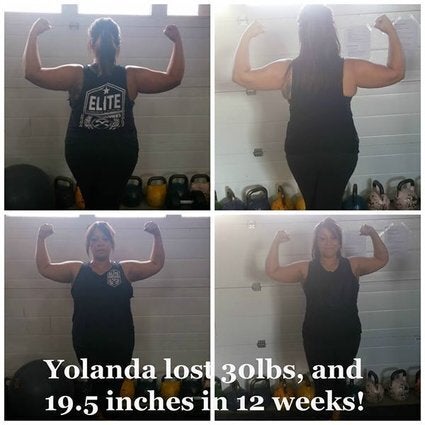 Lost It: Weight Loss Success Stories
The Plan Of Attack: Jared finally convinced me that it would be a good idea to go and work out with him. He was an avid bodybuilder and now is a successful owner of Crossfit Vaughan.
I went and lifted weights with him for the first time and I woke up the next morning more sore than I have ever been in my life. But I loved feeling the burn from lifting weights and have never looked back.
The Food Element: At first I didn't adjust what I ate. I lost 70 pounds without changing my diet just from the increased activity.
However, my weight loss became stagnant, and I knew I needed to make changes. Having starting to take interest in professional bodybuilding, I started to read up on their diets. Quickly I was eating lean protein, downing protein shakes, reducing my carbs and logging everything that I ate.
For the first two years I kept a food log, which I highly recommend. It helps keeps you accountable and helps you really understand the nutritional facts behind the foods you eat.
The Exercise Factor: I was fortunate enough to have an excellent coach (Jared Heft) to start; now I train with a variety of different people with different techniques and goals to keep me motivated. I would often be found late at night or early in the morning at Campus Rec at Western, and now use GoodLife Fitness at Union Station in downtown Toronto.
In addition, over the years I have read many articles and watched many exercise videos, which have helped me develop a routine that works for me. The information I have learned from my fellow lifters has been invaluable as well.
In the end it ultimately comes down to how much you want to put into your exercise routine. During my weight loss, I was working out two hours a day, six or seven days a week, with a mix of strength training and cardio. This meant skipping bar nights at Western and juggling school commitments with gym commitments.
The Current Day-To-Day: It has been five years since I lost the weight and I can happily say I have put on some muscle since then. I hope in the future to meet some of my bodybuilding idols who inspire me on a daily basis, whether it's at Bev Francis' Powerhouse Gym or at the Mr. Olympia competition.
I am very happy with who I have become and the lifestyle I have created for myself. I can still be found in the gym two hours a day working out and chatting. Diet and exercise has become who I am. I look forward to teaching other young people about diet and exercise and I am always happy to share my story.
The best advice I could give someone hoping to start a weight loss plan is: there are many ways to accomplish your goals, never give up and don't be afraid to be different.