The Vancouver Sun newspaper is apologizing for publishing a photo caption that described Vancouver Canucks prospect Jordan Subban as the "dark guy in the middle."
The caption ran online under a photo of Subban celebrating a goal at Tuesday's pre-season game between the Canucks and the San Jose Sharks.
The Sun's blunder was caught by radio producer Greg Balloch, who posted a screen grab on Twitter:
That picture is legit. Wow @VancouverSun... What are you thinking? pic.twitter.com/31pM1O8d5y

— Greg Balloch (@GregBallochST) September 24, 2014
It also appeared on sister newspaper The Province's website.
@GregBallochST Just realized this isn't a Vancouver Sun exclusive. pic.twitter.com/kiTJm93pl1

— A (@Lucmeister) September 24, 2014
Vancouver Sun and Province run same caption of Jordan Subban: "dark guy in the middle." Says a lot about moral compass of sports media here.

— powder & the finger (@thepowderfinger) September 24, 2014
Subban, a defenceman from Toronto, is the youngest brother of Montreal Canadiens star P.K. Subban. The younger Subban was drafted 115th overall in 2013 by the Canucks.
Both newspapers acknowledged the error and apologized on Twitter Wednesday morning.
@GregBallochST This is a horrible caption and we have apologized to @jordansubban. Rest assured, we will be looking into this.

— The Vancouver Sun (@VancouverSun) September 24, 2014
The Province regrets an insensitive description of Canuck Jordan Subban in a photo caption on our website last night. 1/2

— The Province (@theprovince) September 24, 2014
We apologize to Subban, the Canucks and their fans for any offence. We are examining our process to ensure it can never happen again. 2/2

— The Province (@theprovince) September 24, 2014
Subban has been diplomatic, telling The Province that the mistake was "just unfortunate" and that he's not worried about it.
"If people should be talking about something, it should be the way I played last night rather than that," he said. "I don't think there were any bad intentions. It is what it is and I've moved on and I'm sure everyone else will, too."
Adding to the confusion was Facebook's trending ticker, which incorrectly identified the blunder as being about P.K. Subban instead of Jordan.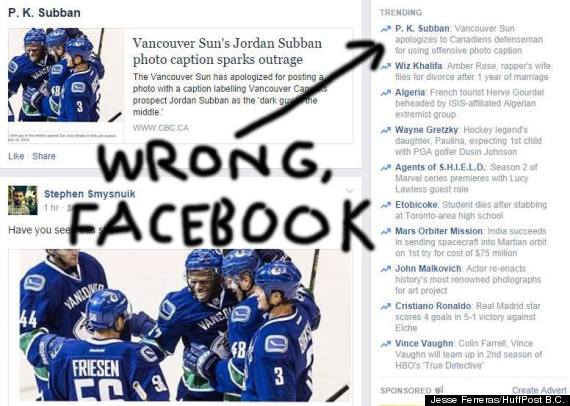 The editors of both papers issued an official statement on Wednesday afternoon:
The Vancouver Sun and The Province apologize for an offensive photo caption that appeared briefly on our websites Tuesday night.

The caption information accompanying a photograph of the Vancouver Canucks' Jordan Subban celebrating a goal was offensive and should never have been written.

The caption appeared for several minutes on our websites before it was brought to the attention of web editors in both newsrooms and immediately deleted. The Sun and Province also took to social media to express our regret for the egregious error, and reached out directly to Subban and the Canucks to apologize.

The matter is being thoroughly investigated. We are examining all web posting practices and procedures to prevent this from happening again.

We again offer our sincere apologies to the Canucks and Subban for the embarrassment this has caused.

Sun Editor Harold Munro and Province Editor Wayne Moriarty
Like Us On Facebook

Follow Us On Twitter
ALSO ON HUFFPOST:
The Greatest Canadian Athletes