CP
Doug Ford loves subways, subways, subways. But he doesn't appear to have much affection for the English language.
Ford released new details Thursday about his (highly-questionable) plan to fund the construction of more subways. But when the map of the expansion scheme was posted to his website it was riddled with spelling errors.
The map made the rookie Torontonian error "Eglington" twice and rendered Don Mills as "Done Mills."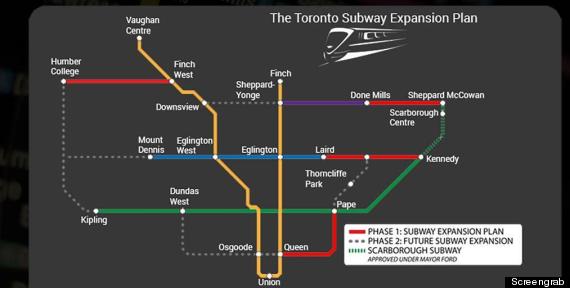 The brutal fail prompted instant mockery and the website was fixed soon after. But that hasn't stopped the fun on Twitter.
Doug Ford & team misspell major sections of the city (like Eglington and Done Mills). That explains this first map - pic.twitter.com/BuMCduTWF4

— Arlene Bishop (@arlenebishop) September 26, 2014
I'd be willing to bet that misspelling on the Ford campaign's transit map — "Eglington" — is deliberate. Probably tested better.

— Andrew Coyne (@acoyne) September 26, 2014
Stay tuned for the inevitable "spelling is for left-wing, latte-sipping, media elites" rebuttal from Ford.
Related on HuffPost: