Mike Sauvageot
A "very friendly" Rob Ford was spotted canvassing an Etobicoke neighbourhood, days after being released from hospital following his first round of chemotherapy.
Toronto hairstylist Mike Sauvageot said his brother received a call from a friend Friday evening saying Ford was knocking on doors in Etobicoke North (Ward 2). So the pair set out to meet the man himself.
"He was pretty tired from chemotherapy and we couldn't shake hands due to the radiation," Sauvageot told The Huffington Post Canada.
However, the mayor happily obliged their requests for photos, appearing slightly flushed while posed by Sauvageot's side (see above). Ford also signed Sauvageot's right arm in black marker: "MAYOR ROB FORD 2014."
Story continues below photo: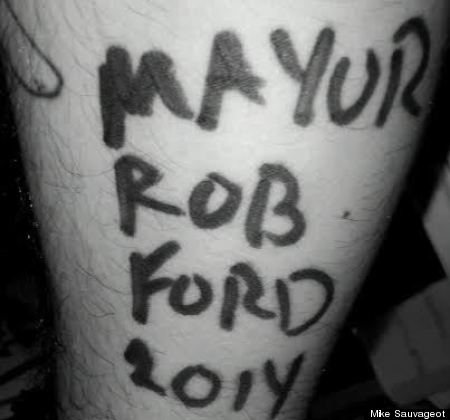 Sauvageot admits he has "never been too much of a fan" of Ford's, but seeing him out on the street campaigning, knocking on doors and taking pictures changed his mind.
"I was very glad to see him out," he said, adding he's more supportive of Ford now that he met him in person.
"He's a great guy and people were excited and shocked to see him out."
Ford is running for the Ward 2 seat on city council after he was forced to withdraw from the mayoral race earlier this month after being hospitalized with an abdominal tumour. His doctor later confirmed the diagnosis to be a "fairly aggressive" case of liposarcoma, a rare type of cancer.
The mayor's brother, Doug, replaced Ford's name on the mayoral ballot.
Ford underwent his first round of chemotherapy last week and was released from Mount Sinai Hospital on Tuesday. He is currently on an 18-day washout period between chemotherapy treatments and is scheduled to return to hospital in early October for a second round.
Doug Ford told Toronto Sun reporter Don Peat his brother was advised by his doctor to get some fresh air and that's what he did.
"You can't keep a good man down," he told the newspaper.
Despite the timing of his chemotherapy regimen, the mayor's actions suggest he's committed to continue campaigning ahead of the city's municipal election on Oct. 27.
According to a news release, he is expected to show up to Saturday's Ford Fest in Etobicoke and will deliver a speech at the annual public barbecue.
Like Us On Facebook

Follow Us On Twitter
ALSO ON HUFFPOST: