Thompson Rivers/Flickr
Four on-air employees at CBC/Radio-Canada earn more than $300,000, but the broadcaster won't say which ones, arguing it would be a violation of the Privacy Act.
The CBC has released documents online, ahead of a Senate hearing, detailing salaries for their on-air talent and their management team. They show the four top-paid on-air employees earn an average of $485,667.
Another 15 employees make between $200,000 and $300,000. There are a total of 1.286 employees in CBC's on-air groups.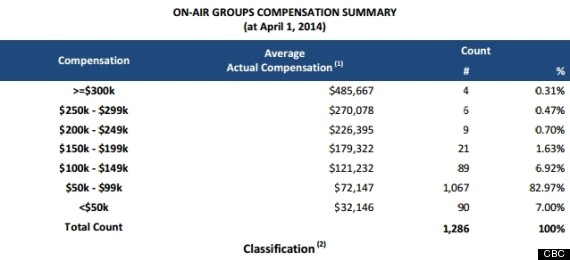 The document release is the latest episode in a tug-of-war between the Conservative government and the CBC.
Senators on the transport and communications committee have been trying to get the broadcaster to reveal the salaries of its top employees. They heavily criticized an earlier release from the CBC, which provided only the union's salary ranges for various types of employees. Some said the release was misleading, as it suggested that chief anchor Peter Mansbridge would only earn about $80,000 a year.
Mansbridge is believed to be among the four top-earning employees listed in the document, according to the Ottawa Citizen, which first reported on the new CBC documents.
The Harper government has reduced funding for the CBC by $115 million a year, leading to cutbacks and layoffs. The broadcaster took another financial hit when it lost NHL rights to Rogers Communications last year.
Many backers of the broadcaster say the Senate hearings are part of a long-running effort by the Conservative government ultimately to defund the CBC.
The government has previously acknowledged legislation prevents it from releasing the salaries of individual earners at the CBC, but has urged the broadcaster to come forward with the information anyway.
A CBC spokesperson told the Citizen the new documents are meant to explain how CBC staffers are paid without revealing individuals' private information.
"This level of disclosure goes further than what is currently available from any other federal Crown corporation or national Canadian broadcaster. It also strives to strike a balance between accountability to taxpayers, and maintaining the privacy employees are afforded under the (Privacy) Act," France Belisle said.
Also on HuffPost: