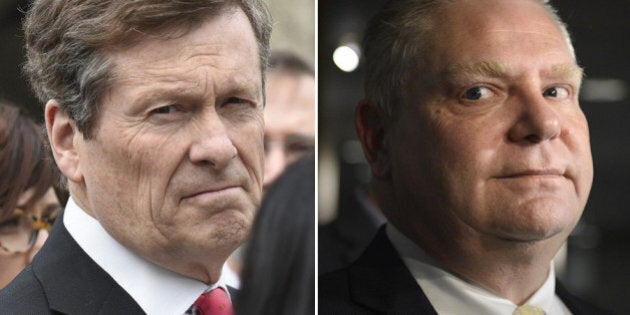 Doug Ford is calling out John Tory's political record and his proposed transit plan in a pair of new radio ads.
Both ads begin with the words "What's the story, Mr. Tory?" as a bouncy melody plays in the background.
One ad highlights Tory's prior electoral losses as a mayoral candidate back in 2003, and when he was twice defeated while serving as the leader of Ontario's Progressive Conservatives.
The other ad suggests Tory's SmartTrack plan "isn't so smart at all," citing a Globe and Mail analysis that said his transit plan had an uncertain financial footing.
"It's the same old story, Mr. Tory — yet another shaky idea that will cost the people more," the transit-related ad says.
Asked about Ford's attack ads ahead of a debate on Tuesday, Tory told reporters that he said each campaign must make its own decisions about what kind of ads it will use.
Since throwing his hat in the ring, Ford has attacked Tory as being unprepared for the job of mayor, while touting his own experience serving on council this past term.
Ford joined the mayoral race at the last minute, taking the place of his ailing brother.
The Oct. 27 election is less than four weeks away. Ford and Tory are just two of dozens of candidates seeking to become the city's next mayor.