RCMP
The driver of a St. Albert bus was taken to hospital Tuesday evening, after his transit vehicle went off the road and crashed through two backyards.
According to RCMP, the bus was travelling on Heritage Drive near Haviland Crescent around 6 p.m., when it went off the road and crashed through a fence and a shed.
The bus then plowed through a trampoline, before crashing through another fence and finally coming to a halt after colliding into the back deck of a home.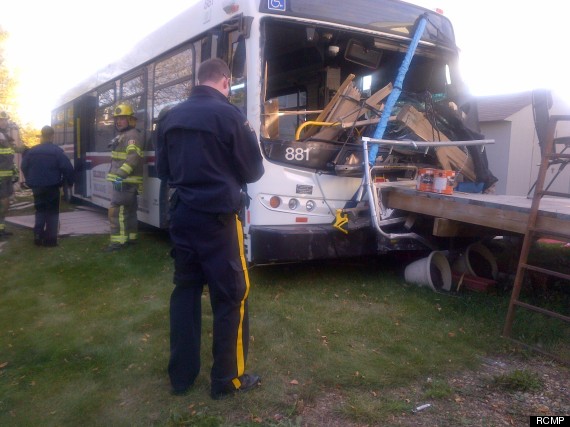 The owners of the first residence were not home at the time, but two adults and two children were inside the second home.
Scott Drazek told CTV News his family was preparing to eat when they heard the bus come crashing through their yard.
"We had just sat down for supper and we heard a loud – I don't know how to explain it – grinding noise, My wife got up from the table; she looked outside screamed and just said 'Run'.
"[We] grabbed our girls and just started running out the door."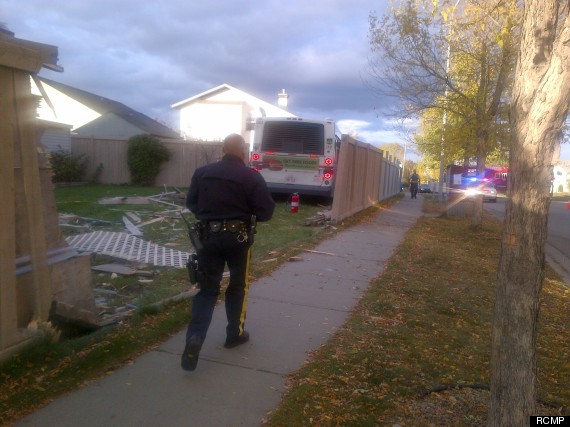 The male bus driver was the only person on the bus, and sustained non-serious injuries.
RCMP say they do not know what caused the crash, but are investigating.
Anyone with information is asked to call St. Albert RCMP at 780-458-7700.
Like Us On Facebook

Follow Us On Twitter
ALSO ON HUFFPOST: