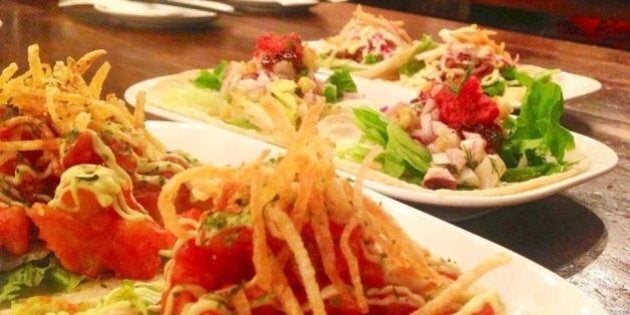 Eating out on a budget? Restaurants in Calgary, Toronto, Vancouver and Montreal have made Urbanspoon's annual list of real meal deals.
It wasn't just being the best at burgers, hot dogs, sandwiches and street food that earned places a spot on the list, released Thursday. Establishments that were recognized run the gamut from Asian fusion, Cuban cuisine and pizza to pastries, Bavarian pretzels and breakfast tacos.
Urbanspoon's top Canadian eateries for cheap eats are Holy Smoke BBQ, Boogie's Burgers and Peters' Drive-In in Calgary; Salad King, Banh Mi Boys and Guu SakaBar in Toronto; and Japadog, Guu Garlic, Kintaro Ramen and Sushi Nanaimo in Vancouver. Two Montreal eateries were named for their bagels: Fairmount Bagel and St-Viateur Bagel.
Urbanspoon also cited restaurants in New York, Atlanta, Austin and Dallas in Texas, Boston, Chicago, Las Vegas, Portland, Ore., Seattle, Los Angeles and San Francisco and the Bay area.
Urbanspoon is an app that aggregates reviews from professional food critics, bloggers and local diners in Canada, the U.S., the United Kingdom, Australia and New Zealand.
Check out dishes from each of the Canadian restaurants here — and feel free to add your own to the comments, because we know there's more than just bagel shops in Montreal: