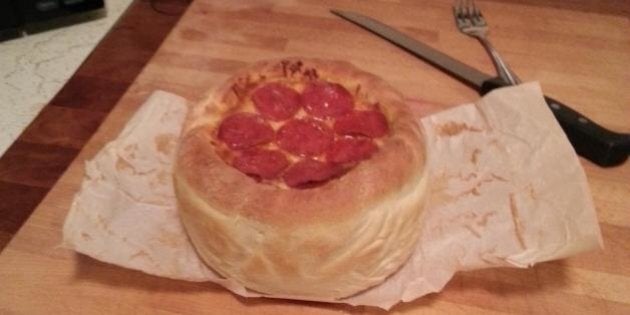 Look, plenty of us are fans of insanely calorie-filled novelty foods that should be nowhere near our mouths, but unless you live in a large city that happens to have these sugary and salty food offerings, you can't taste any of these foods unless you make them yourself.
Unfortunately, the thought of creating our own cronut or deep-fried waffle burger often sounds like a disaster waiting to happen. Earlier this week, the internet got a taste of Pillsbury's pizza cake recipe that's been making the rounds online. It is literally just a whole lot of pizza made into a cake shape (no sugar and fondant here), so if you love your bread and cheese, this could be your new "special occasion" dish.
The result? A pretty tasty looking pizza cake with pepperoni. Yes, some of the images are a little blurry and don't look like your typical Instagram food porn, but we can all agree this cake sounds delicious. Just be sure to invite a few friends over to share it.
ALSO ON HUFFPOST: More pizza!