A Conservative Senator took a shot at Justin Trudeau and his late father after the Liberal leader announced his party would not support the prime minister's motion to join U.S.-led airstrikes against a Middle East extremist group.
"The apple does not fall from the tree," Senator Nicole Eaton tweeted Friday. "PM Trudeau refused to fight the Nazis in WWII, stayed home comfortably in Outremont" — a wealthy Montreal neighbourhood.
She did not mention Opposition Leader Thomas Mulcair, who also declared the NDP would not support the motion, calling the government's reasoning for war weak.
Eaton was quickly called out for her comparison. One user raised the point the government's proposal to extend the Iraq mission and the Second World War "aren't even remotely comparable."
"Rubbish," she responded. A stream of users rushed to criticize Eaton's comment, prompting Employment Minister Jason Kenney to jump in.
Kenney linked to an Ottawa Citizen article titled "Young Trudeau: Fascist, anti-Semite, and separatist" from 2006.
Trudeau has yet to respond to Eaton's or Kenney's remarks.
Eaton, appointed to the Senate by Prime Minister Stephen Harper in 2008, is famous for blasting Canada's official emblem — the beaver — as a "toothy tyrant" and "19th century has-been."
She's also not the first politician to take a swing at Pierre Elliott Trudeau's choice to not fight in WWII. Harper himself blasted the late prime minister's decision — two days after his state funeral.
On Oct. 5, 2000, the future prime minister penned an editorial criticizing Trudeau Sr. as a politician who "embraced the fashionable causes of his time."
"He was also a member of the 'greatest generation,' the one that defeated the Nazis in war and resolutely stood down the Soviets in the decades that followed. In those battles however, the ones that truly defined his century, Mr. Trudeau took a pass," Harper wrote in the National Post.
At the time, Harper was the president of the National Citizens Coalition, an Alberta-based conservative lobby group favouring smaller government and less taxes.
In his memoir, Trudeau Sr. explained he was a law student at the University of Montreal when WWII broke and was consequently conscripted to join the Canadian Officers Training Corps.
He did not opt to enlist to fight in the war in Europe, because at the time troops were sent abroad on a volunteer basis. He cited lingering French Canadian distrust toward Ottawa after a WWI conscription crisis as a motivating factor.
"If you were a French Canadian in Montreal in the early 1940s, you did not automatically believe that this was a just war," he wrote in Memoirs.
On Friday, as prime minister, Harper made his long-anticipated pitch to the House of Commons to send Canadian fighter jets to combat ISIS militants, extending Canada's role in the region for up to another six months.
Harper referred to a tape released by ISIS last month that urged followers to kill "disbelievers" in countries whose militaries are supporting U.S.- and French-led action against the group to make his case.
"Indeed, it has specifically targeted Canada and Canadians, urging supporters to attack 'disbelieving Canadians in any manner,' vowing that we should not feel secure, even in our homes," he said in the Commons.
Harper reaffirmed to the House there would be "no ground combat mission."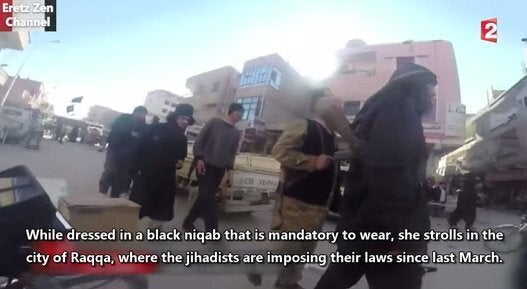 Syrian Woman Wears Hidden Camera to Reveal Life Under ISIS Rule