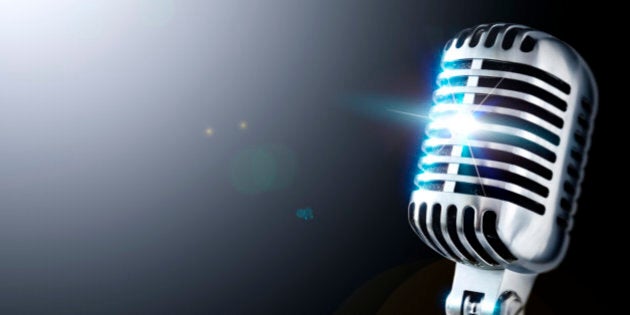 Today's media requires a constant stream of content -- which is an issue if you're in music since songwriting can be a lengthy process. Perhaps this is why covers have achieved such cultural currency as of late.
Last week alone, Aretha Franklin wowed the kids with a cover of Adele's "Rolling in the Deep," a preview of her upcoming all-covers album, which will also feature the queen of soul taking on singers like Sinead O'Conner. Not a bad career move considering her biggest hit, "Respect," was originally an Otis Redding Song.
Not to mention that Tony Bennett just ascended to the top album spot with "Cheek to Cheek," a collection of standards sung with Lady Gaga. (They knocked down Barbra Streisand's similarly themed "Duets," though she's only covering her own songs with new singing partners.) The number 5 spot, "PTX: Vol. III," is an album by a capella act Pentatonix which is more than half covers of songs like Ariana Grande's "Problem."
Meanwhile, Eddie Vedder covered John Lennon's "Imagine," Ryan Adams covered his pseudo-arch-nemesis Bryan Adam's "Run to You" and (less-amusingly) Foreigner's "I Want To Know What Love Is." Alice Cooper covered The Beatles' "Eleanor Rigby" for the same upcoming "Art of McCartney" tribute that saw the Cure recently cover "Hello Goodbye." Even Panic! At The Disco got back in the news with a cover of Queen's "Bohemian Rhapsody" while Tears For Fears did the same with their cover of Radiohead's "Creep."
Arcade Fire has also made covers a staple of their concerts, with the band performing cover by a classic artist from each city they played, ranging from Boys II Men and Blondie to Jane's Addiction and Feist. Though they upped their game recently with a one-off supergroup featuring members of Bon Iver and The Strokes to cover Phil Collins' "In The Air Tonight" and White Stripes 'Seven Nation Army."
Genre-benders like Postmodern Jukebox have also won huge followings for videos like their bluegrass cover of "Anaconda" or their breakthrough doo-wop take on Miley's "We Can't Stop," following in the viral footsteps of Canadian act Walk Off The Earth.
Cyrus has long been in on the trend herself, though, taking time in her concerts to cover songs like "Jolene" by her godmother Dolly Parton. Most recently she's covered Led Zeppelin's "Baby, I'm Gonna Leave You" and Roy Orbison's "It's Over." Lorde, meanwhile, recently covered Kanye West and Bon Iver while Sam Smith added Tracey Chapman's "Fast Cars" to last summer's viral cover of Whitney Houston's "How Will I Know."
Cover songs are not new, of course. Elvis Presley's "Blue Suede Shoes" was a Carl Perkins cover and Tin Pan Alley types like Frank Sinatra trafficked in standards performed by pretty much everyone. But the current surge can probably be attributed to the rise and fall of singing shows like "American Idol" and "Glee," which sent covers by amateurs and actors surging up the charts.
Now the professionals (not to mention contestants-turned-pros Kelly Clarkson and Carrie Underwood) have taken the reigns back, encouraged by acclaimed covers by legends like Johnny Cash, who truly made Nine Inch Nails' "Hurt" his own, and the ability of YouTube to turn one-off performances into viral videos.
So here's a video gallery of some of these recent covers as well as some of the best (and most surprising) ever. If we left out your faves, let us know in the comments.