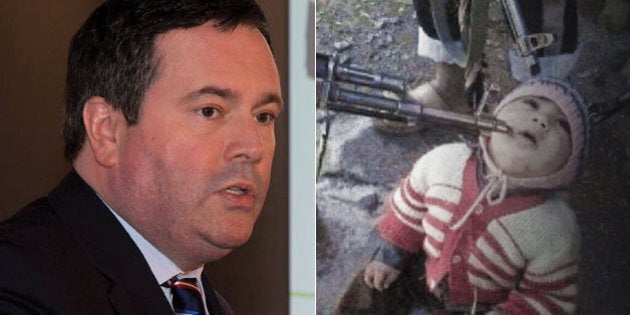 Employment Minister Jason Kenney is attempting to drum up public support for airstrikes against the Islamic State of Iraq and the Levant (ISIL) by posting some provocative images online.
Kenney is also sharply criticizing Liberal Leader Justin Trudeau for his decision not to support Canada's combat mission in Iraq.
In a tweet Monday morning, Kenney contrasted a quote a Kurdish man gave to the National Post, in which he expressed appreciation to Canada for joining the U.S.-led air campaign, to Trudeau's quip last week that the Harper government wanted to "whip out our CF-18s" to show how big they are.
Conservatives derided Trudeau's controversial remark as disrespectful to the Canadian Forces, while Kenney called it "juvenile."
But other images posted to Kenney's account hammered home his central point that Islamic State militants are committing genocide against ethnic and religious minorities and that Canada has a responsibility to take action.
One particularly jarring photo shows an Iraqi child surrounded by the guns of ISIL militants and a quote from writer and Holocaust survivor Elie Wiesel.
"'Never again' becomes more than a slogan: It's a prayer, a promise, a vow," Wiesel wrote in his book, "Hostage."
Another image shows Iraqi children who were injured in an August attack, with the words from Wiesel's Nobel Peace prize acceptance speech about the importance of taking sides in the face of evil.
Kenney became emotional last week as he recounted to reporters an anecdote about a Christian leader in Iraq who said Islamic State jihadists went to hospitals and "threatened the elderly with decapitation" in their beds.
"Frankly, when I think of that, I don't think about politics in Canada," Kenney said. "For me, it's the humanitarian issue of our generation and we have to act, in my opinion."
A vote on Harper's motion to join the combat mission is expected Tuesday. New Democrats and Liberals have already said they will not support the plan, in part because of fears Canada could be dragged into a lengthy quagmire in the region.
However, a Conservative majority means the debate around the motion is mostly symbolic as it will likely be passed easily.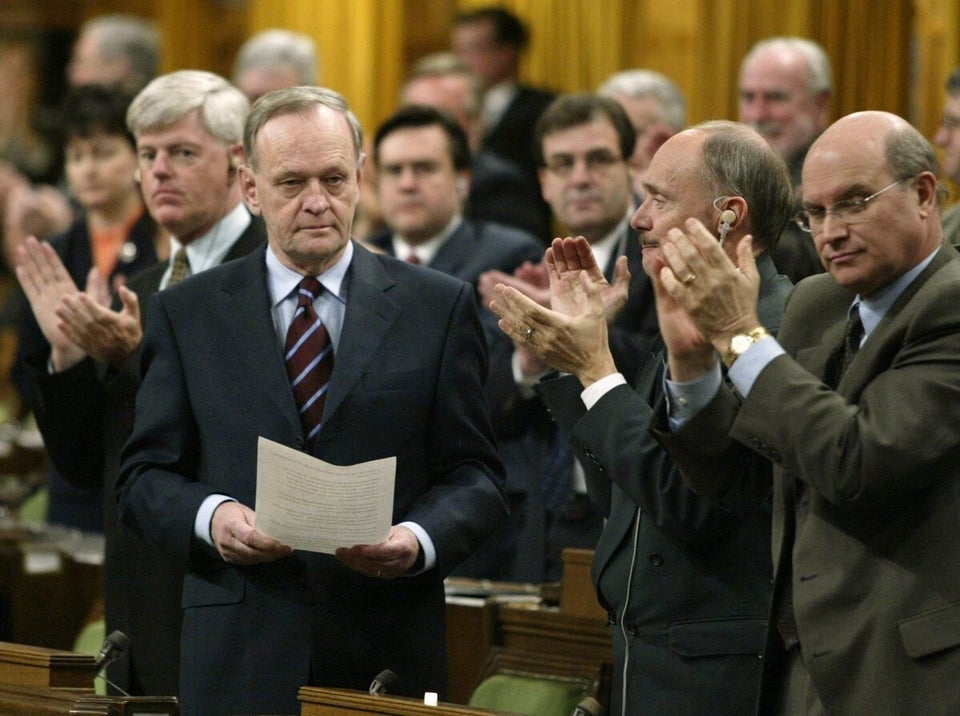 What Leaders Said About Iraq In 2003

With files from The Canadian Press