The final costs to clean up the mess left behind after September's freak snowstorm in Calgary could reach $18 million.
City council confirmed Monday that $7 million has been spent so far, and that roughly one million trees — or half of all trees in Calgary — were either damaged or destroyed, reports the Calgary Herald.
Parks director Ann Charlton told council the city is going to "try to save as many old trees as possible," while also replanting lost trees and pruning those whose lost limbs leave them at risk for disease.
The three-day storm in early September blanketed the city with more than 20 centimetres of snow. Because the snow hit at an unseasonalbe time, when the trees still had leaves, the weight of the snow and leaf combination left a huge swath of destruction.
In the city's last tally, crews have collected more than 14-million kilograms of tree debris and have collected 20,000 loads from 97 Calgary communities.
"We are turning the destruction of this storm into something positive," said Dave Griffiths, director of Waste & Recycling Services, in a news release.
"Our plan is to return a lot of it to communities where trees were damaged by providing mulch for our City parks and trails next spring or summer. Some of it may also be used in The City's composting facility."
However, Mayor Nenshi said that, typically, disaster relief funding does not assist in replanting efforts.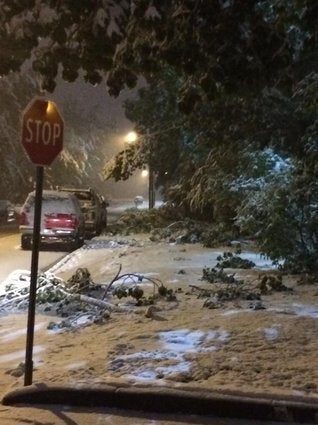 Calgary Trees Downed During September Storm