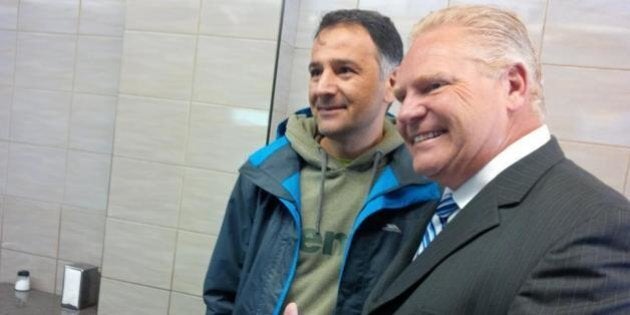 Doug Ford cast himself as a defender of the city today, while taking swipes at John Tory's transit plan and touting his own "proven plan" to build subways in Toronto.
Late Tuesday afternoon, Ford made an appearance at Don Mills Road and Sheppard Avenue East, in an attempt to highlight the many commutes he believes would be affected if a light-rail line were established there.
"John Tory wants to run LRTs down the middle of this road. It's unthinkable," he said. "I'm building subways. I'm building subways along Eglinton, I'm building subways on Finch and I'm sure building subways along Sheppard here."
Ford then went onto to slam the SmartTrack plan Tory is proposing, which would establish a regional, 53-kilometre transit line that runs mostly along existing GO Transit rail corridors.
The plan is under increasing scrutiny, something Ford said voters are beginning to notice.
"People are starting to see through John Tory's pie-in-the-sky, fictitious transit plan that doesn't serve the people of Toronto," he said.
"It runs along the lake, there's holes all over it, it doesn't connect to the existing transit line."
By contrast, Ford said he has "a proven plan" to build subways in Toronto.
"World-class cities have subways. Toronto is a world-class city, we're going to have world-class transportation here," he said.
While making his transit pitch, Ford was asked about his apparent intention not to participate in future mayoral debates involving Ari Goldkind, who is a well-known defence lawyer in the city.
Ford said it's time for the ongoing mayoral debates to focus on the candidates sitting highest in the polls.
"You know something? Realistically, there's three candidates that have a chance at winning. Let's get down to business and let's start debating," he said, in an allusion to himself, Tory and Olivia Chow.
Ford denied being afraid to debate Goldkind.
"I'm not scared to debate with anyone. I don't care if it's the premier, prime minister, anyone — I'll debate because I'm debating for the people of Toronto," said Ford. "I'm their defence attorney. Ari might be someone else's defence attorney, I'm the defence attorney for the people."
Chow, Ford, Goldkind and Tory are among dozens of candidates vying to be elected as the city's next mayor on Oct. 27.