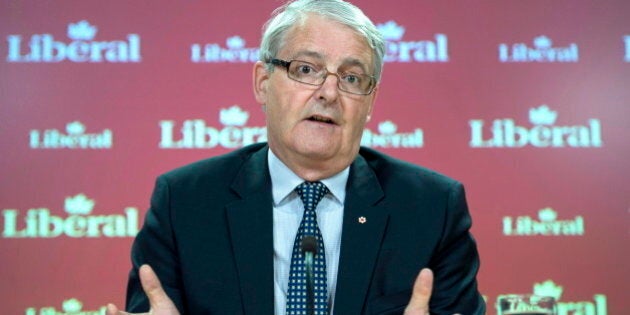 OTTAWA — The man tasked with selling the Liberals' position on the upcoming combat mission in Iraq found himself on the defensive Tuesday. Foreign affairs critic Marc Garneau sowed confusion about the Grits' decision-making as he tried to distance himself from comments he made earlier.
Speaking to CBC's "Power & Politics" Monday, Garneau told host Evan Solomon that Liberal vote against the Tories' six-month combat mission against the Islamic State of Iraq and the Levant (ISIL) would be whipped.
"This is a whipped vote, there's no question about it. This is really a very, very important vote for each of the parties," Garneau said.
Tuesday, however, Garneau told The Huffington Post Canada the vote would, in fact, not be whipped.
"No, there is no need to whip the vote, because we all of us discussed it last Wednesday and we are all in agreement with the position that we have taken," he responded.
Liberal Leader Justin Trudeau himself sidestepped the question, saying the party would vote against the motion "in a unanimous way."
But four Liberals did not show up for the vote Tuesday evening. They included: P.E.I. MP Lawrence MacAulay, Ottawa MP Mauril Bélanger and Montreal MPs Stéphane Dion and Irwin Cotler.
MacAulay was out of town during the vote, but his office told The Huffington Post Canada he would have "absolutely" voted with the party, adding he is "completely supportive" of Trudeau's stance on the combat mission.
Dion's office said he was out of the country visiting the Fukushima nuclear site, but otherwise would have voted with his party. Bélanger said he was in Quebec City at the International Summit on Cooperatives but would have voted with his colleagues.
Cotler sent out a press release saying he was abstaining from the vote because, while he supports a combat mission to protect innocent civilians in Iraq, the government's motion lacked clarity and he is "deeply disturbed" by Prime Minister Stephen Harper's statement that Canada requires the approval of the Assad regime to carry out operations in Syria.
"To allow the perpetrator of war crimes, crimes against humanity, ethnic cleansing, and genocide, to green-light Canadian intervention is to turn [Responsibility to Protect] on its head," Cotler said.
The Harper's motion to participate in the combat mission in Iraq passed the Commons with 157 MPs in favour and 134 against.
Trudeau had pledged that as prime minister he would only whip his caucus under specific conditions, which were not present in the combat mission vote. Trudeau said he would require his government caucus to vote with cabinet only on bills that implement the 2015 Liberal platform; bills that enable budget or significant money measures (often referred to as confidence votes) and bills that speak to the shared values embodied in the Charter of Rights and Freedoms.
On Friday, Trudeau announced his party would not support the combat mission. The NDP also opposed the combat mission — though three of its MPs were also absent from the vote Tuesday. Six Conservatives also did not attend though Green Party MP Bruce Hyer and Independent MPs Brent Rathgeber and Dean Del Mastro supported Harper's plan to participate in airstrikes in Iraq and renew a commitment to send up to 69 special forces members as advisers.
But shortly after the story was published, Garneau accused the paper of "irresponsible journalism" and said his words were being distorted.
Story continues after slideshow: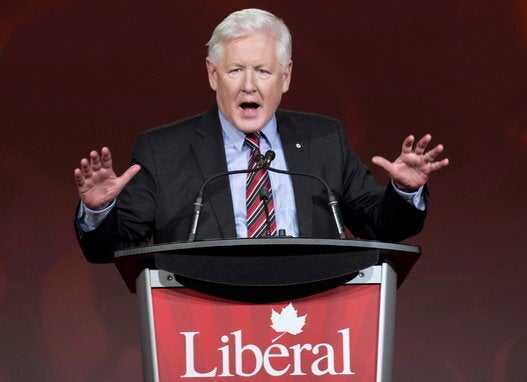 Liberal Stalwarts On ISIL, Iraq
The Liberal MP took to Twitter to say he thought Globe reporter Daniel Leblanc was asking about supporting the Canadian Forces, not the mission.
Leblanc posted audio of his interview with Garneau online.
"So you're going to vote against this but you will then support the mission?" Leblanc asked.
"You know what? Once the decision is made by the government of Canada and our men and women are out there, we have to be supportive. That's the right thing to do," Garneau said. "It isn't what we would have chosen."
Garneau later said his comments had been misunderstood.
"This has all been a storm in a teacup," he told reporters.
"We are going to vote against what the government is proposing. We have made that very, very clear," he said.
"To be honest with you, we are going to lose that vote. No surprise there, okay? Once that decision is made, the government is going to put into effect the plan that it has. And, of course, we support our troops.
"They are going over there into the face of danger. And that is what I wanted to communicate today. I am ex-military myself, I have always supported our troops. It doesn't matter if we have differences in policy, we support our troops and that's the right thing to do, so there was a miscommunication, and that is all there was really, absolutely nothing more than that."
NDP Leader Thomas Mulcair told reporters the Liberals have had five different positions on the Iraq mission.
"It's not a flip flop, it's a fifth flop and Mr. Harper has not changed his mind," Mulcair said. "He's continuing despite the fact that we're being told on the ground that there's no way to believe that simple airstrikes like this are going to be a solution."
Trudeau's decision not to support the limited — for now — combat mission to Iraq has put him at odds with several party stalwarts who believe the new Liberal leader should have supported airstrikes against the terrorist group.
Former health minister Ujjal Dosanjh tweeted over the weekend that he supports a robust Canadian mission regarding ISIL, which is also referred to as ISIS.
"Fighting ISIS unlike Iraq war. A just response needed from the world. Beheadings? What more do u need?" he wrote.
Former interim party leader Bob Rae wrote a column in support of intervention two days before Harper unveiled his combat mission plans. Rae slammed those who "mistakenly" compare military engagement against ISIL with the 2003 invasion of Iraq.
Trudeau hasn't explicitly described the current Iraq mission as the same as Saddam Hussein's overthrow but he has spoken repeatedly about the "war in Iraq." In his speech to the House of Commons on Friday, Trudeau harkened back to 2003 and a conflict he said was based on "false pretenses and flawed intelligence."
"We know the Iraq fiasco haunts the choices we have to make today," he said. "But we cannot make the wrong decision now because the wrong decision was made then."
Garneau told reporters it is the elected Liberals in the Commons who got together to make the decision and they are "very, very comfortable" with their position.
"We are the ones that are going to vote on it, and we are the ones that are going to live with the consequences, so no it doesn't bother me," Garneau said.