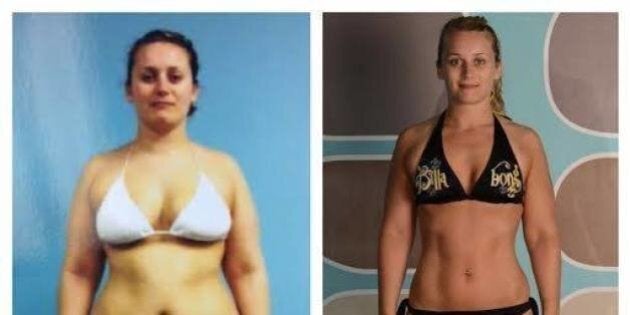 By The Numbers: 180 at my heaviest, currently 120, for a total weight loss of 60 pounds.
The Weight Gain: My weight fluctuated a lot as a kid and continued throughout my life. But the biggest weight gain began in college when I started partying more and I didn't care about what I was eating. My usual meal was Kraft Dinner, chips and Sidekicks — basically anything cheap and quick to make was fine by me. To top it off, I was also a smoker.
I did try the green coffee bean cleanse and it didn't work. Let's just say I was trying to lose weight without any real effort or motivation. I wanted to still eat and live life the way I was without the hard work.
The Final Straw: About seven months ago I realized that I could barely climb up a flight of stairs without gasping for air! I was just so unhappy with not only the way I looked, but also the way I felt.
Story Continues Below. Check out more of our inspiring weight loss stories: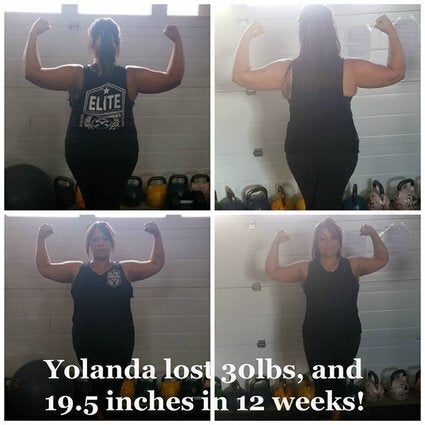 Lost It: Weight Loss Success Stories
The Plan Of Attack: I joined Taylored Training (TT) in March, and at the beginning of May, I started an eight-week Physique Challenge. I started strength training with free weights and doing metabolic workouts using cool stuff like the Prowler, TRX Suspension Training, sprint training and battle ropes. Every workout was fun and it kept me motivated.
The Food Element: I started eating more protein (steak, salmon, cottage cheese, Greek yogurt, chicken). I also tried to include more vegetables — especially the green guys!
I gave up all cardboard carbs. I completely gave up the KD, cookies and packaged foods that led to my weight gain.
The hardest adjustment was learning about the importance of food portioning. My coaches at TT taught me how to eat and what the best foods were to eat for my specific goals. It wasn't about eating low-calorie foods, but making healthy choices. I was successful by filling up on healthy food that helped me push through my training as well.
The Exercise Factor: I joined TT two days after I quit smoking. My other gym experiences consisted of going on the treadmill or elliptical for an hour, but it got me zero results. I was too intimidated to try lifting weights and I couldn't afford one-on-one private training. At TT, their unique approach to training allowed me to have a coach during every training session.
These days I train five times a week. I am also now the new assistant coach at TT and I'm working on finishing my personal training certification. I have decided to pursue fitness as a career and help motivate others to make the changes I did!
The Current Day-To-Day: Eating clean is very important to me. When I know I have to work a long shift, I always make sure I have my meals prepped and ready to go! No skipping meals, ever. I stick to prepping my meals and training five times a week at the studio. There's no going back to the way I was. This is what makes me happy.
My advice is, just do it! You wont regret it! My problem was I would procrastinate and always tell myself I'll start eating healthy and exercising tomorrow. Well, that doesn't work! Train, eat clean and your body will reward you!