Nahanni Arntzen wasn't born in a hospital. She wasn't even delivered by a doctor.
Arntzen came into this world in a teepee perched 18 kilometres up the Kingcome River on B.C.'s West Coast. It was 1975, and her young parents were working as tree planters. Her father Daniel James — his hands still rough from the outdoor work — delivered Arntzen himself.
Arntzen grew up on tree planting camps through the '70s and '80s, and though she didn't register it at the time, her dad photographed all of it on Kodachrome slides.
Now Arntzen is taking those slides and turning them into a book.
"Most of my time spent in camps were warm fuzzy memories of dogs, riding in the back of trucks, sleeping in tree boxes, stealing mouthfuls of icing while the cooks weren't looking, late night fires and early morning rain," she wrote on her Kickstarter page, which raised more than $20,000 to publish the book.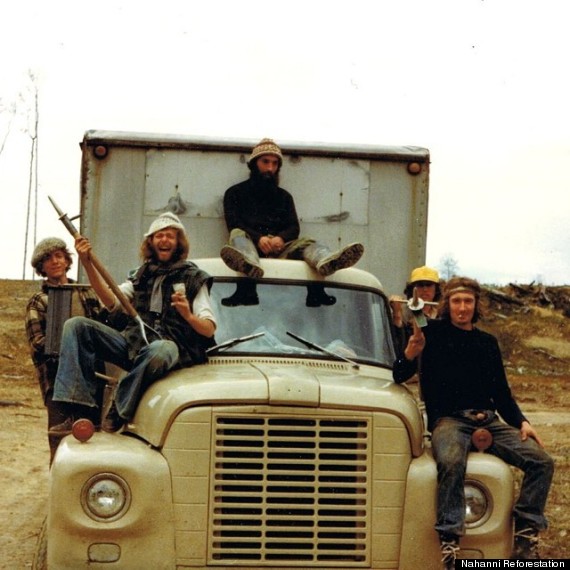 "I wanted to do this book because as I was sorting through these slides I realized that my dad had a very detailed and complete piece of history, of our family, and part of British Columbia reforestation roots," Arntzen told The Huffington Post B.C. in an email.
"I wanted to make something that he would never have done himself and in doing so have reconnected with my childhood and the stories I remember hearing and the places I remember seeing."
James estimates that his operation, Nahanni Reforestation, planted between 10 million and 12 million trees from 1977 to 1987.
Arntzen discovered the slides when she asked her father for pictures of her childhood, because she wanted to show them to her daughter. James ended up at her door with a large bag full of the images.
Story continues below slideshow:
Arntzen, who now lives in Portland, Ore. with her husband and children, has scanned all of her father's slides and finished the book layout. She says copies pre-ordered through October will be done in time for Christmas. (More photos can be found on her Instagram.)
Through the images, Arntzen is able to re-live those free-spirited years, and at the same time share a forgotten part of B.C. history with the public.
"Now that I have my own kids, I realize exactly how old my parents were while doing the things they were doing out in the middle of nowhere, hundreds of miles from anywhere," said Arntzen. "And [I] have a real appreciation for that."