Vancouver's Gastown steam clock has been removed for some life-saving repairs.
The popular tourist attraction was uprooted from the corner of Cambie and Water streets on Wednesday and taken to a fabrication shop, said a city news release.
The clock's mechanical moving parts for loading the metal balls are worn out and "can no longer be reliably maintained," said the city. There have been regular mechanical failures over the past year, which the repairs should help avoid.
The off-site work coincides with the end of cruise ship and tourist season. The city hopes to have the clock back in place by early December.
In the meantime, crews have installed a "faux" steam clock to protect the existing steam vent parts.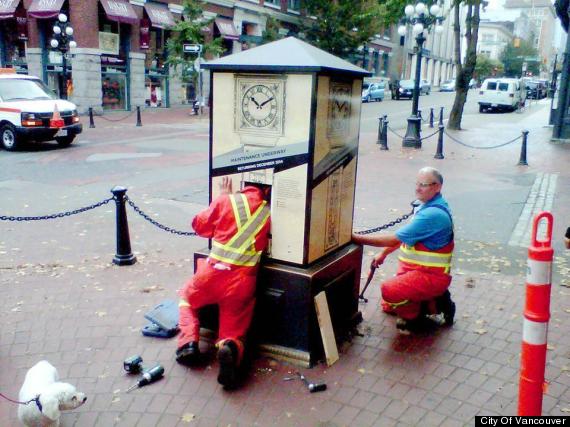 The steam clock was built as a public art piece in 1976 by horologist Ray Saunders. It also serves as a vent for Creative Energy Canada, which supplies the steam that sounds the whistles.
Like Us On Facebook

Follow Us On Twitter
Also on HuffPost