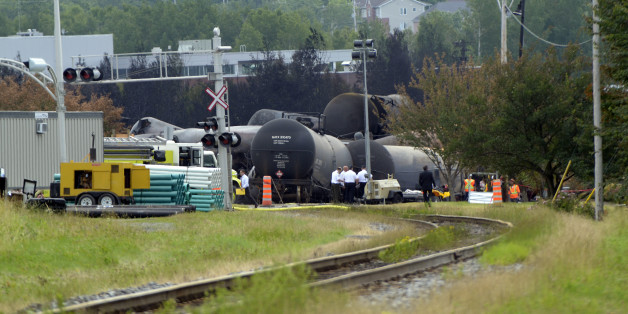 Getty
QUEBEC - A Quebec coroner says the deaths of 47 people in the explosion of an oil tanker train in Lac Megantic in July 2013 could have been avoided.
Dr. Martin Clavet issued a report today for each of the 47 victims.
He notes he can't comment about civil or criminal responsibility because of pending criminal charges.
Clavet is urging Ottawa to review its regulations to determine the number of brakes that need to be enabled on trains.
He is also recommending that the federal government ensures trains carrying dangerous materials on a main track have proper supervision.
A federal measure to that effect expired in December 2013 and Clavet is recommending it be re-introduced until Canadian rail companies implement additional security measures.
The runaway train roared into the heart of Lac-Megantic in the wee hours of July 6, 2013, derailed and exploded, destroying much of the community.
Hours before the deadly blast, the train's locomotive and its 72 tankers were parked for the night about 12 kilometres up a steep grade from Lac-Megantic.
It was left unattended with its engine running to ensure its air brakes remained enabled.
But the locomotive later caught fire and the engine was shut down by the local fire department who left the scene.
Also on HuffPost: