Obi Canuel
A B.C. man who lost his driver's licence because he insisted on wearing a pasta strainer in his photo is now running for Surrey city council.
Obi Canuel, 37, an ordained minister in the Church of the Flying Spaghetti Monster, says he's entering politics because the people of Surrey are misrepresented.
"Last year, the mayor made more than $130,000 and Surrey is a place that has a lot of working class and poor people. I feel that city councillors who are making twice the median salary do not accurately understand what it's like for average Surrey citizens," he told The Huffington Post B.C. in an interview on Thursday.
The Simon Fraser University philosphy graduate said he has a blue-collar job, and wants to represent the working class.
"Like many other Surrey residents I am fed up with the idea that there is an elite wealthy class pretending to know what it's like to ride a bus or be worried about paying the rent," he said.
The Surrey native admits he doesn't expect to win, but he does want to highlight the wage difference between city council members and the average citizen.
In the event he is elected, Canuel said: "I will take home $20,000 of the $60,000 city councilors make. Then I will take the remainder and I will ask the people of Surrey which charities they would like me to direct that income towards. And I will try my very best to bring down mayor and council salaries to something close to average."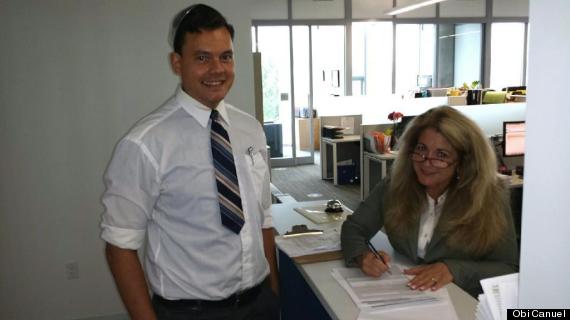 Pastafarian Obi Canuel signs his nomination papers in Surrey, B.C. on Wednesday.
The Pastafarian has been in the news over his religious right to wear a colander in his driver's licence photo. The Insurance Corporation of B.C. allows headgear "worn in conjunction with religious practice, or is needed as a result of medical treatment" but disagrees that Canuel's pasta strainer is a religious requirement and rejected his licence.
"I am taking transit, like many Surrey residents, unlike the current mayor and council members," said Canuel.
Pastafarians belong to the Church of the Flying Spaghetti Monster, a light-hearted, U.S.-based faith where "the only dogma allowed ... is the rejection dogma."
Canuel said he isn't sure exactly when his spiritual conversion began but he says, "I gradually came over to the spaghetti over the last few years."
He said he won't bring his religion into the election process because it has nothing to do with what he stands for. But if he wins, he will wear his metal colander for photographs, special occasions, and important meetings.
In January, Christopher Schaeffer, a Pastafarian minister, was sworn into the Pomfret, N.Y. town council wearing a colander.
Like Us On Facebook

Follow Us On Twitter
ALSO ON HUFFPOST: