Zach Galifianakis stepped out on the red carpet last weekend looking like a new man, and we couldn't be more impressed.
The actor, best known for his roles in "The Hangover" and his satirical talk show "Between Two Ferns," was promoting his new film, "Birdman" — but the big news was his dramatic weight loss as he nonchalantly posed for pictures.
Check out the difference here — the photo on the left was taken in October 2011, while the one on the right was taken this month: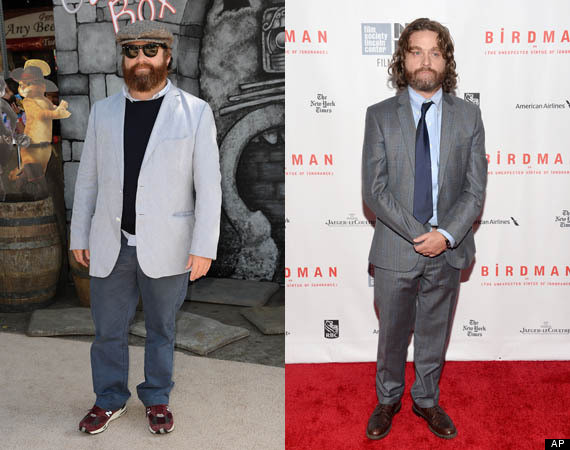 Galifianakis discussed losing weight on Conan O'Brien's show last May, stating he'd stopped drinking and some weight had come off. But now with approximately 50 pounds off his frame, the actor looks slimmer and healthier than ever before.
As the first public event he's attended in a year, according to Hollywood Life, this red carpet showed off his new look, which fortunately retained the stellar beard for which he's known for.
We're guessing his one-year-old son, who he recently talked about publicly for the first time on Jimmy Fallon, could have something to do with it.
After all, considering he called being a celebrity "gross" to the Hollywood Reporter, we're pretty sure he's not all that worried about appearances.
Also on HuffPost