It's a Thanksgiving miracle!
Thanks to social media, a dedicated couple, a bunch of strangers, and probably some Thanksgiving cheer, two orphaned grizzly bear cubs are safe and sound at a B.C. wildlife shelter.
Their journey began on Saturday when the cubs were spotted near Cranbrook. Conservation Officer Greg Kruger found the bears, too young to survive on their own, along with the body of their mother who had died after being hit by a car.
Kruger tranquilized the cubs and called the Northern Lights Wildlife Shelter (NLWS) to pick them up and transport them somewhere safe, according to a press release.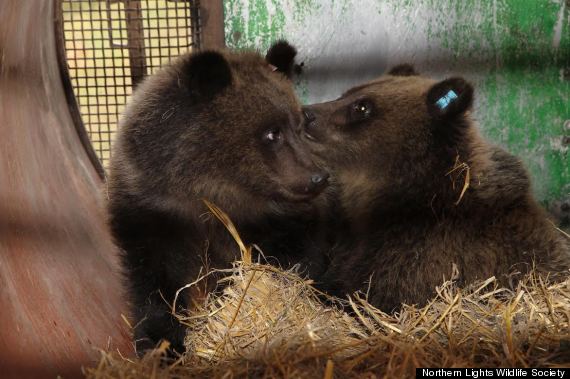 Angelika and Peter Langen from NLWS left Smithers on Saturday evening for the 1,200-km. trip, taking turns driving through the night to meet Kruger outside of Golden and transfer the cubs — a boy and a girl — into a transport trailer.
But about 30 kilometres outside of Revelstoke, the Langens' truck started to overheat. They called BCAA's roadside assistance, but it couldn't tow the vehicle with the bears inside for liability reasons.
Unsure what else to do, Angelika posted their plight on the shelter's Facebook group. Supporters from around the world who saw the online plea called BCAA, according to Langen.
Within half an hour, a truck was on its way to pick up all four passengers.
But another problem arose: no mechanic would be able to fix their truck until Tuesday, so Angelika took to Facebook once again. Golden resident Wendy Chambers found a private number for Grizzly Automotive's Tom Patry, who agreed to take a look at the truck.
The couple knew they would need to spend the night in Revelstoke, so local resident Sari Lundberg offered up her parent's lockable garage as a place to keep the cubs, while the Langens rested at a local hotel.
Grizzly Automotive fixed the Langens' vehicle the next day, even though it was a holiday Monday.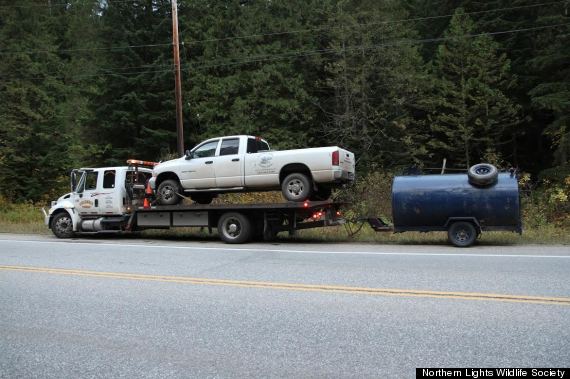 The exhausted Langens and their new charges finally got home to Smithers at around 2 a.m. on Tuesday. The cubs were released into Northern Lights' enclosure that afternoon, Angelika told The Huffington Post B.C. over the phone from town, where she was picking up food for the many hungry animals in her care. (Aside from the two new grizzly cubs, the NLWS also has 17 black bears.)
She said when the cubs were first let out, they raced around and busied themselves trying to climb the fences and dig underneath them.
"I'm pretty sure they have settled now," she said.
This isn't the first time the shelter has seen strangers come together to help orphan bear cubs. In May, some hikers, dirt bikers, nature photographers and wildlife experts worked to rescue a set of cubs who were abandoned by their mother in Cranbrook.
The society is trying to rehabilitate them to release back into the wild.
Like Us On Facebook

Follow Us On Twitter
EARLIER ON HUFFPOST: