There's a storm coming, Atlantic Canada.
The East Coast better batten down the hatches as Gonzalo, the strongest hurricane to come off the Atlantic Ocean in three years, is expected to hit the region this weekend, USA Today reported.
It is considered a major, Category 3 hurricane after peaking with winds of approximately 222 km/h on Wednesday, The Weather Network said.
The system, which was expected to hit Bermuda by week's end, will transform into a "strong post-tropical storm" as it heads north, according to the Canadian Hurricane Centre (CHC).
It remains unknown precisely where the storm will hit, but the CHC said it's tracking to arrive anywhere from east Cape Breton to around 200 kilometres southeast of Newfoundland, a range of about 500 kilometres.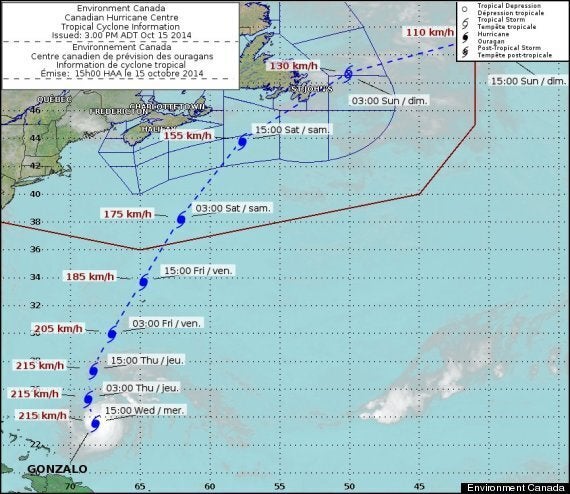 The hurricane has a 50 to 60 per cent chance of making landfall in Newfoundland, with the eye of the storm expected to arrive "midday Saturday to early Sunday."
If the storm's eye tracks over central Newfoundland or west, then it's possible that eastern Nova Scotia could see hard rain.
Because the hurricane is expected to evolve into a post-tropical storm, its "wind field" will expand, meaning the strongest winds could miss land altogether, much as they did with Hurricane Maria in 2011.
But heavy rainfall is also a possibility; the CHC expects a cold front to arrive in eastern Newfoundland Saturday. Strong precipitation could also result if moisture from the storm comes along with it.
Meanwhile, high waves are predicted near the Grand Banks and along Newfoundland's coastal areas. Storm surge could also be a problem if Gonzalo's centre travels over land.