A Nunavut village has effectively cancelled door-to-door trick-or-treating over safety concerns as polar bears make their way into the community this fall.
Instead, the Hamlet of Arviat is holding a Halloween event at its community hall that will include activities such as face painting and a haunted house, CBC News reported.
"Council is concerned with door to door due to this activity going on at the same time that polar bears are in and around our community," it said on Facebook last week.
A letter posted on its page Wednesday said a "clear majority of people liked the idea of providing a safer environment for kids to celebrate Halloween."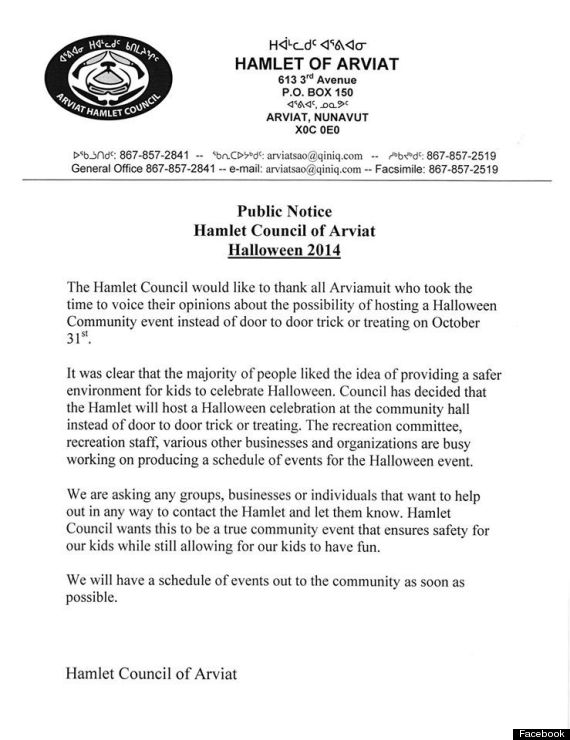 In recent years, bears have been increasingly entering the village, which is located about 250 kilometres north of Churchill, Man., CBC News said.
"Picture 1,200 kids going door-to-door in Arviat in the middle of polar bear season," Steve England, Arviat's senior administrative officer, told the network.
"It's a pretty obvious conclusion of what tragedies could come out of that. We're just trying to safeguard the younger population by offering an alternative."
The news comes as Inuit and Cree hunters have agreed to cut back polar bear hunting quotas in Nunavut, Ontario and Quebec by a quarter, from 60 to 45, The Canadian Press reported Tuesday.
Scientists claim the reduction is necessary because the old harvest number was unsustainable, though Inuit say it was to appease international concerns about Canada's management policy.
"We keep saying there's too many bears out there but the biologists don't seem to understand that," Nunavut Tunngavik Inc.'s Paul Irngaut told the news agency.
Like Us On Facebook

Follow Us On Twitter

ALSO ON HUFPOST: