Where's a person to find a moment of silence in their lives these days, anyway?
That's the question being asked and answered by Breather, a Montreal-based start-up company that has slowly but surely been creating havens in cities across North America for the last two years, proving by-the-hour rooms for people to hold meetings, meditation classes, charge their phones — really, anything you can do in a coffee shop, but without the bother of other people.
The company, which functions by app on Android and Apple, lets you pick a spot and have it for whatever chunk of time you need, with rates ranging from $15 to $35 an hour, depending on the city and address. Breather currently operates in Montreal, New York and San Francisco, with Ottawa having opened up two spaces (so far) just this week.
"The demand is craziest in a place like New York where you can't even turn around, and have to huddle in alleyways to make a phone call," says co-founder Julien Smith, author of Trust Agents: Using the Web to Build Influence, Improve Reputation, and Earn Trust. The intention is to be in every major city in the next few years.
The spaces are all done up in a similar aesthetic: modern-yet-comfortable furniture set in rooms of muted, neutral tones. Breather both leases spaces itself and uses others' offerings, bringing in a designer to ensure it will feel cozy and intimate, and not like your average communal rental spot.
"Space is very personal," says Smith. "When you walk into a space that doesn't feel like it belongs to you, it feels awkward."
Check out Breather's spaces in Canada. Story continues below: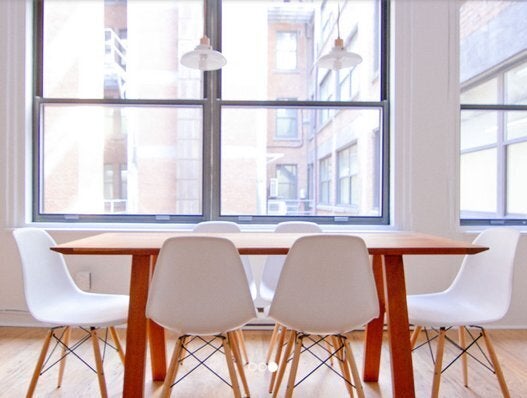 Breather Spaces In Canada
Each spot includes phone chargers, wifi, a yoga mat, magazines, access to a washroom and often, free coffee. And though it's geared toward "business people," Smith points out that's not always what you may be envisioning.
"We've had life coaches who need to be somewhere with someone, and they probably don't want to be at a coffee shop. Actors that want to rehearse, people who want to collaborate on a specific project that rent them for weeks at a time." He told the New Yorker he knows meditation classes have been held in some spaces.
While the number of uses for outsourced spaces are myriad (people have floated the idea of dinner parties, and someone recently asked if they have hairdryers available), Smith is realistic about what they can and can't provide right now. "You can see the utility to it but we're so not there," he notes. "I think in the future the answer is yes, but it's definitely not right away."
And as for the name of the company, and the entire concept of breathing room, it's easy to see why it would appeal to the introverts in the crowds, above and beyond your usual communal space.
"Providing privacy is a fundamentally valuable human thing that we've wanted for millions of years. But it's really hard to get, because private space is locked behind closed doors.," Smith explains. "We put electronic locks on it and say 'you have access to this space, go anytime you want.' We think a lot about what this does for people as people."