©2014 DND-MND CANADA
A 135-metre container ship carrying bunker and diesel fuel is adrift after losing power off the coast of B.C.'s Haida Gwaii.
The Council of the Haida Nation issued an emergency alert on Friday morning about the ship, which is located about 25 kilometres off Tasu Sound.
The Russian container ship is reportedly carrying 500 tons of bunker fuel and 60 ton of diesel.
Rescue officials told CBC News that the ship is drifting parallel to the coast so landfall is not imminent. But the council said the Coast Guard is "preparing for the worst with the ship hitting ground."
A Canadian Coast Guard ship called the Gordon Reid arrived Friday afternoon but was having trouble getting a line on the vessel, according to an updated Haida Nation press release. Another Coast Guard ship, as well as a tugboat, are expected to reach the area early Saturday.
Numerous federal and provincial agencies were involved co-ordinating the response, including the Department of Fisheries and Oceans, Transport Canada and B.C.'s Environment Ministry.
Western Canada Marine Response Corp., which is contracted by the federal government for oil spill response, said it had been notified and that its crews were on standby.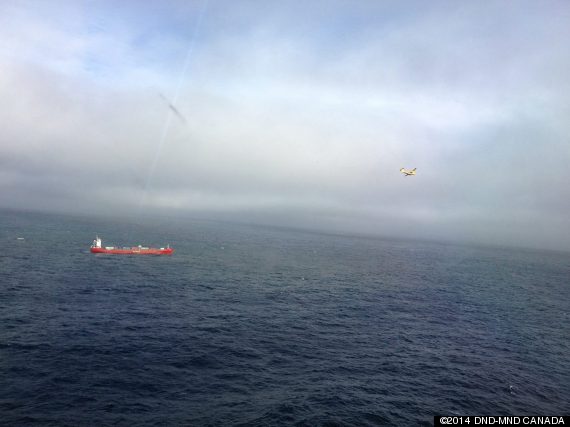 To compound what the council called a "dire situation," a storm warning is in effect for the area.
"It's something like five metre [waves] or more out there. There was a storm last night and there's more on the way," Giindajin Haawasti Guujaaw, former president of the Haida Nation, told The Tyee.
"The area that it's heading towards, the west coast of Moresby Island, is a toothed, rocky place," he added. "If it gets up there, they're not going to get it off."
The vessel was drifting away from shore earlier but was heading back toward the coast as of 5 p.m., according to the Haida Nation, whose emergency response team is in contact with all levels of the Canadian government.
The ship, named Simushir, was travelling from Washington state to Russia when it lost power, reported CBC News. There are 11 crew members on board, said Global News. A helicopter was sent to rescue the captain, who sustained an unknown injury.
"The Haida Nation's worst fear is coming true," Haida Nation President Peter Lantin said in a news release.
"Our priority is to minimize the impact on our homeland and get our people on-site to start dealing with the grounding. We'll deal with the politics of the situation later."
See photos:
With files from The Canadian Press