A shocking tragedy marred an outdoor concert in Seoul, South Korea on Oct. 17 when a metal grate gave way, causing 16 people to fall to their deaths while K-Pop girl group 4Minute were performing as part of an inaugural pop festival.
The Korean Herald reports approximately 1,000 people were watching the show in Seongnam (a "satellite city" of Seoul) when a ventilation grate collapsed. Officials said 27 onlookers fell approximately 20 meters when the grate gave way, resulting in the fatalities.
Police said many moved to that area before the collapse (which took place at 5:53 p.m. local time) to get a better view for the concert. Those who were injured were taken to neighboring hospitals and are currently receiving treatment. It's unclear as to the extent of their injuries.
Witnesses told the Korea Herald many of those who perished appeared to be office workers, most in their 30s and 40s, who went to see the performance. However, The Guardian reports most of the concert goers were young females.
Korean music site AllKPop.com reports the inaugural Pangyo Techno Valley Festival also included pop bands JungGiGo, T-ara and Cherry Filter. The site also states rescue workers were forced to drill through a wall four stories below ground in order to reach the injured and the dead.
"After 4Minute's concert, the members and all the staff were not aware that the tragedy occurred and left the venue," a statement from Cube Entertainment, who represent 4Minute, reads. "It was only when they returned to Seoul that they heard the news about the accident. There is no way to express the sadness we feel. We hope that the incident today doesn't cause great damage to those who attended."
Korean Prime Minister Chung Hong-won called an immediate meeting of ministers following the tragedy to look into what transpired and why it happened.
The five-member girl group 4Minute formed in 2009 and have achieved great success in South Korea.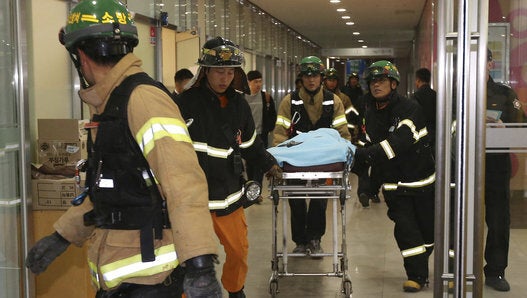 South Korea Concert Tragedy