The Conservative Party's latest attack on Justin Trudeau is missing some pretty important information.
The new commercial released Monday targets the Liberal vote against the mission to bomb ISIS in Iraq and the Liberal leader's now infamous dick joke about "trying to whip out our CF-18s and show them how big they are." However, several of the quotes used in the attack are taken out of context.
The ad focuses on the theme that Trudeau is "just not up to the job" of prime minister. Quotes from various news sources flash across a photo of the Liberal leader looking serene, his hands held as if ready for prayer.
A number of the clips are misleading:
- A quote from a Kelly McParland column in the National Post leaves out a part of a sentence that softens the criticism. The bolded section is missing from the Tory ad. "It's a telling remark, suggesting the Liberal leader has yet to grasp the distinction between taking partisan shots at opposing parties and treating Canada's military forces with glibness and disrespect."
The way the quote is attributed also makes it seem as if it represents the official position of the newspaper rather than a single writer.
- A headline taken from QMI declares "Opposition to Iraq mission bizarre." However, the column criticizes the NDP as well as the Liberals and does not mention Trudeau by name even once.
- The final quote in the ad, lifted from a Lawrence Martin column in The Globe and Mail, reads that "There is concern in many quarters that the young leader is not ready for the big stage." However, the ad quickly transitions to just the words "not ready for the big stage" with "Globe and Mail written beneath it. As the Ottawa Citizen's Glen McGregor has pointed out, this makes it seem as if the quote represents the official position of the newspaper rather than of one columnist.
The Tories may also not want Canadians to look too closely at Martin's column. Though the writer is critical of Trudeau's stance on the Iraq mission, he also states that "Mr. Harper can be faulted for shamelessly trying to play the fear card in suggesting there is a direct threat to Canada from Islamic State." Not exactly unequivocal support for the prime minister.
Prime Minister Harper has argued that such use is already legal, but has yet to explain the reason why his party is seeking to change the law anyway, saying that he will not "speculate on future decisions."
Whether the Tories end up changing the law or not, it's safe to say the party will continue to use words lifting the media without providing complete context.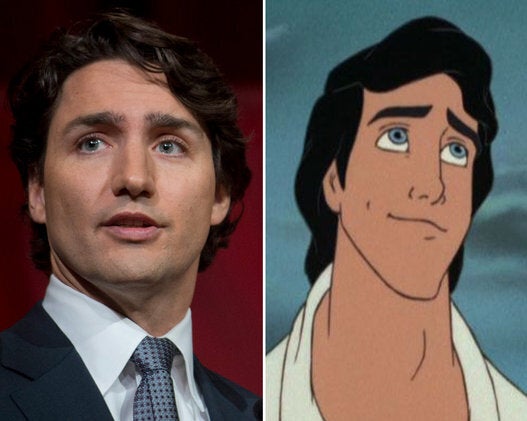 Canadian Politicians' Uncanny Lookalikes