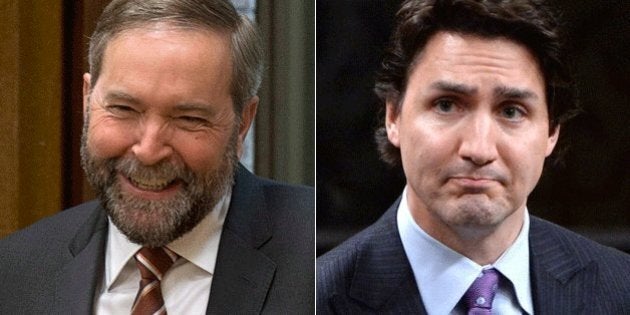 A new poll suggests support for the federal Liberals dipped in the past month, with all signs pointing to a close, three-way battle in the next federal election.
The survey, released by Abacus Data on Monday, shows the Liberals at 32 per cent support among committed voters — a drop of six percentage points from the last Abacus poll in September. Conservatives are at 30 per cent support, unmoved from the last survey, while the NDP boasts 25 per cent support, an increase of two percentage points. The Green Party is also up one three points to eight per cent support.
In other words, with an election now less than a year way, Thomas Mulcair's New Democrats are very much in the equation.
In vote-rich Ontario, 33 per cent said they would support the Liberals, 30 per cent the Tories and 28 per cent the NDP.
In Quebec, the Liberals and NDP are essentially in a dead heat with 32 per cent and 31 per cent support apiece. The Bloc boasts 17 per cent support, while the Tories are well back at 14 per cent.
In battleground British Columbia, the Tories lead with 40 per cent support, followed by the Liberals (30 per cent) and NDP (20 per cent).
Unsurprisingly, Conservatives are well ahead in Alberta at 56 per cent, while the Liberals lead in Atlantic Canada at 46 per cent.
It's not clear how Justin Trudeau's opposition to the combat mission in Iraq may have impacted these numbers, if at all. On Tuesday, Abacus will release results to a series of questions about the ISIS conflict and perceptions of federal leaders when it comes to the crisis in Iraq.
What is clear, according to Abacus' Bruce Anderson and David Coletto, is that all three federal parties will be contenders in the 2015 election.
"The best bet is that this campaign will be one of the more interesting ones to watch in many years, and the likely outcome will not be apparent anytime soon," Anderson said in the poll summary.
Coletto believes that each party could have a potential road to victory.
"But that road for the Liberals may not be as smooth as appeared last month," Coletto said in the release accompanying the poll. "For the first time in our tracking this year, we have seen some movement. Liberal support is down, NDP and Green support has ticked up, while Conservative support is holding at 30 per cent."
Forty-six per cent of respondents said Canada is headed in the right direction, while 44 per cent felt that way last month. Only 24 per cent think the country is "on the wrong track."
And 33 per cent think the federal government is doing a good job, unchanged from the September poll.
The survey was conducted online among 1,248 respondents between Oct. 15 and 17. The margin of error was plus or minus 2.8 percentage points, 19 times out of 20.
Trudeau told The Huffington Post Canada Monday that he doesn't spend much time worrying about polls.
"What I spend a lot of time paying attention to is the kind of numbers you see on the ground, whether it is record levels of membership in the Liberal party up from about 30,000 when I launched my leadership to around 220,000 now, whether it is the number of donors and the donations coming in, whether it is our results in byelections, whether it is the volunteers coming forward," he said. "There is a general positive enthusiasm for politics, in a non-cynical and non-angry way that Canada hasn't seen in a long time. And that's what I am really excited about."
The results paint a different picture than a poll released by EKOS Research on Sunday, showing the Liberals at 38.5 per cent support, the Tories at 26.4 per cent and NDP at 25 per cent.
A federal election is scheduled for Oct. 19, 2015.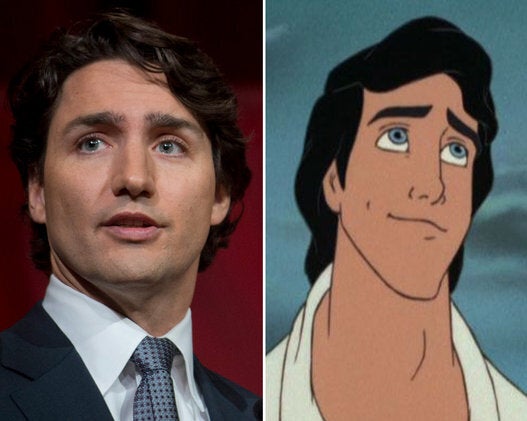 Canadian Politicians' Uncanny Lookalikes