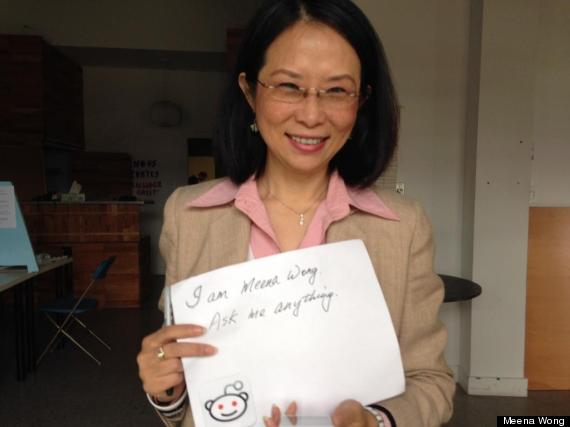 Meena Wong, the COPE candidate for Vancouver mayor, sat down to answer questions on Reddit. In an AMA ("Ask Me Anything") format, Wong fielded queries on her proposal for $1/day transit, vote-splitting, and affordable housing.
The Vancouver municipal election is on Nov. 15.
Wong's AMA is the second of three, organized by The Huffington Post B.C. and the Vancouver subreddit. NPA candidate Kirk LaPointe did one last week, while Vision's incumbent mayor Gregor Robertson is scheduled Oct. 23 at 1:30 p.m.
Here are some highlights from Wong's AMA:
AFFORDABLE HOUSING
What will you do about housing affordability and our lowest salary in Canada?
I'll create a Housing Authority to monitor the city's housing stock, and place a duty on vacant properties to fund real affordable housing build by the city. I believe that affordable housing is part of the city's infrastructure.
I'll also raise the minimum wage to $15, then to a living wage so people can afford to live here.
How would you enforce this?
Here's how I'll enforce the duty on vacant properties. Landlords will be asked to report property usage, and we will do spot inspections backed by fines, and we can use hydro data to help target inspections, among other mechanisms.
Wouldn't that just be creating more beauracracy [sic] and inviting too much government into the living room?
My plan is based on the New York model, where there is no cost to the city. Administration is funded by landlord registration fees.
THE COMPETITION
As compared to Gregor Robertson and Kirk LaPointe, what do you bring that would make you a better mayor?
I'm proud to be with a party that refuses donations from property developers. We are beholden only to the people of Vancouver, and will make the best policies for working people. Vision and the NPA each took over $1 million from property developers last election, and we see the results as Vancouver becomes less affordable.
DOLLAR PER DAY TRANSIT
Where will the subsidy for universal $1 a day transit come from?
The plan is cost-neutral, just like at colleges and universities. Now TransLink collects $150 million from vancouverites in fares. If each of our city's 450,000 adults had a $30/month pass, we'd generate $160 million for transit.
So do you plan on forcing all 450,000 adults in Vancouver to buy a VPass? It's a pretty huge assumption that anywhere near 450,000 adults would buy into a VPass program if it were optional...
Look at the opt-out rate at UBC or SFU with the community pass (not students), it's low. When you put a pass in peoples hand, they use it. They love it!
Where is the money to cover the difference for those who opt-out going to come from?
The program incorporates a $10 million annual opt out fund, generated from the $30/pass itself. The opt-out fund at UBC is only $50,000 per year.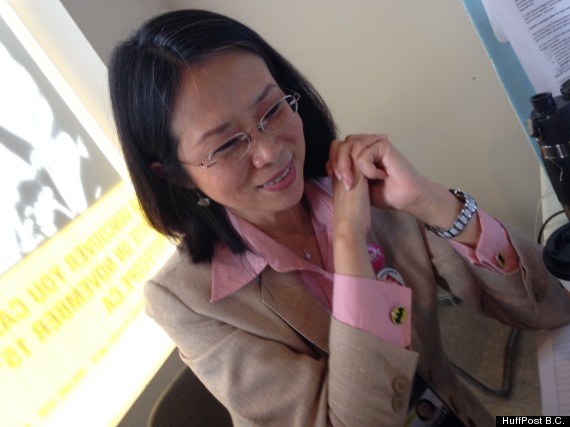 SUBWAY LINE
You are opposed to a Broadway subway line at the moment, how much busier would the route have to be for you to feel rapid transit is justifiable?
I believe in above-grade light rail, which is good for local business, neighbourhoods, and the environment. Vision is talking about $3 BILLION for the broadway subway. With that money, we could improve public transit for the whole city and phase-out transit fares. Plus Vision's plan will likely go over budget.
I am actually quite shocked that a left wing candidate wouldn't support rapid transit along the single busiest bus route in North America! It is clear we need rapid transit along Broadway, we just need the political will to make it happen
I'm a bus rider. I support rapid transit on broadway NOW. I don't want to wait for 30 years for something that won't materialize. One thing we can do now is put more buses on the road with priority bus lanes. What are we waiting for?
VACANT PROPERTIES
Why do you believe taxing empty homes is a viable strategy? Wouldn't rent controls work better to make housing more affordable?
I will do both. I believe that property is a home first, before an investment. We have an affordable rental crisis, almost zero availability. We need the vacant properties to be freed up. If a landlord can afford to leave it empty, they can afford to pay more. And we can use that money to build real affordable housing on city owned land.
But rent control is also crucial. Just this morning, I held a press conference outside a 19-storey affordable rental building that will be torn down for luxury condos. I'll protect tenant's security, so that landlords can't evade rent regulations by renovating or demolishing.
VOTE SPLITTING
I like COPE, but I don't see any way their ideas will be financially feasible, or implementable.
Vision and the NPA are the developer parties. Look at Vision's record. Most people I talk to can't afford to live here for another four years under Vision's policies.
Vision rejected the living wage policy in its first term. They won't stop renovictions. They don't argue for reducing transit fares. And they did not implement a duty vacant property for the last 6 years.
PARTY HISTORY
It has been 10 years since the last time COPE was in power and nothing really seems to have changed. Back then social housing was a major issue with a tent city set up in Woodwards, there were feelings that developers owned city hall, and Translink was occupied with the planning of a rail line. What have you, as a party, learned from and since Larry Campbell's mayorship that will help your party turn this around in the coming years (if elected)?
Thank you for your good question. Larry Campbell took money from developers and gambling interests. If you look at COPE now, you can see that we have an incredible slate that represents the diversity of this city, and is beholden only to the people of Vancouver. Our candidates will implement the platform that was developed by listening to working people.
But not all of COPE's history is bad. COPE has a long, strong position of fighting for an affordable city and neighbourhoods, and I am proud to carry on that legacy.
FOOTBALL
How far can you punt a football?
Field goal every time, baby!
Like Us On Facebook

Follow Us On Twitter
Also on HuffPost