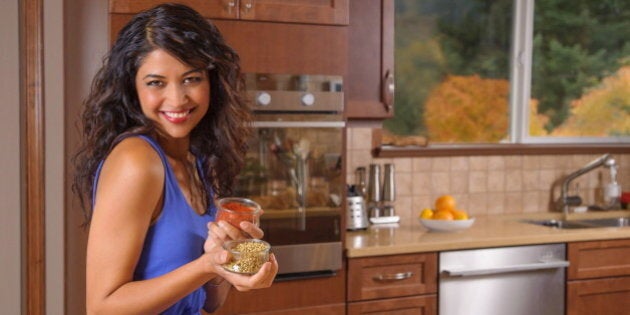 TORONTO - Ever since she was a little girl in India, "Spice Goddess" host Bal Arneson has loved celebrating the Festival of Lights, spending time with family and friends — and cooking up a storm.
"All year long I looked forward to Diwali," recalled the Vancouver-based Arneson. "And of course it was a holiday from school. Lots of very colourful clothes. We would all get a brand-new outfit that day. So that was such a big deal. Here, we buy clothes whenever we feel like it. But growing up in India, in my household at least, the clothes were bought only on special occasions, someone's wedding or you were going back to school or if it's Diwali."
The vibrant five-day festival each autumn, also called Deepavali, celebrates the victory of good over evil and light over darkness. The date varies according to the positions of the sun and moon. This year it starts Thursday.
"My mom would wake up early in the morning and start cooking feasts and making desserts and then throughout the day ... we would go to our neighbours' homes and give gifts and desserts and then of course at the end of the night there were fireworks," said Arneson, who emigrated to Canada in the early 1990s and took a job cleaning houses after the breakup of a short-lived arranged marriage.
The author of the recently published "Bal's Spice Kitchen" (Whitecap Books), Arneson loves hosting parties and plans to invite friends to join her this week.
"I will be making lots of desserts — gulab jamun, that's one of the desserts that I absolutely love — and then I love meat dishes, but many of my friends are vegetarian so I'll be making samosas. I'll be making curries. I'm making cauliflower curry."
In "Bal's Spice Kitchen," she writes that the tiny round Indian doughnuts known as gulab jamun are a special treat only for Diwali in her home because they are deep-fried. Arneson champions healthy food and delights in explaining to readers and viewers that authentic Indian food isn't necessarily heavy and creamy or laden with a long list of spices.
Her first book, "Everyday Indian" (Whitecap) was published in 2009. "Spice Goddess," which airs on Food Network Canada and in the U.S. on the Cooking Channel, was nominated for a James Beard award. Her second cookbook, "Bal's Quick and Healthy Indian," published in 2011, won at the 2012 Gourmand World Cookbook Awards in the category best Asian cuisine for Canada (English). Her new show "Spice of Life with Bal Arnesan" has started airing in the U.S. and in Asia.
She had a brush with Hollywood after Oprah Winfrey and Steven Spielberg, producers of "The Hundred-Foot Journey," asked her to create some recipes to accompany press material about the film, released in the summer. They invited her to walk the red carpet with them and star Helen Mirren when the film premiered in New York.
"That was my recent journey as a proud Canadian hanging out with those guys and sharing my food. It was really surreal," Arneson says, adding that her 10-year-old son boldly presented her new cookbook to Spielberg.
She's also appeared as a judge on "Iron Chef America" and "Bobby's Dinner Battle" in the U.S. and on "Cooking with Fire," which aired in Canada.
For Diwali, Arneson buys inexpensive small clay diyas, or lanterns, from Indian markets.
"The belief is you put it outside and then Lakshmi, which is one of the Hindu goddesses, who blesses you with prosperity and health and wealth, and then she travels on the night of Diwali around the houses that have diyas outside the house and then she blesses that house with prosperity, harmony, peace, love and the blessings of financial security.
"My mother would put a lantern in the garden to make sure Lakshmi comes and blesses the garden because in India growing up the garden is your life, gives you food. If one plant wasn't growing properly she would put a lantern underneath that. As crazy as it may sound, I'm going to do exactly the same thing."
Arneson is unsure of her exact age but suspects she was born in 1973 or '74. Because she doesn't mark birthdays, she particularly looks forward to Diwali and other festivals.
"Diwali is a celebration of lights, but my lights are my friends who have been supporting me for so many years, so for me I celebrate my friends. I celebrate my family. I celebrate my children. My daughter Anoop and my son Aaron are truly the lights of my heart. They show me the path in the darkness.
"Many times I felt discouraged, but they are the ones standing there with the light torches saying, 'Mom, you can do it. We're so proud of you, you're doing so amazing.'"
Follow @lois_abraham on Twitter.