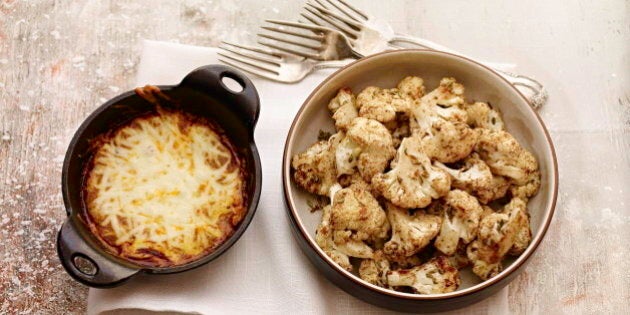 "Spice Goddess" Bal Arneson was invited by Dairy Farmers of Canada to create recipes for Diwali, the Festival of Lights, featuring a blend of spices and Canadian cheeses.
Most people have heard of the neutral-tasting Indian cheese called paneer, which is now made in Canada, "but I was able to take it one step further by celebrating other Canadian cheeses" such as ricotta and feta, Arneson says.
Chutneys are a familiar condiment with Indian food.
"Diwali is all about colours. The peach, really that vibrant pink, warm and welcoming, is a very fall festive colour," says Arneson. "The leaves when they are falling are red, so I wanted to represent the colours of the leaves coming through my food, so I decided to choose peach. The sweet and the tartness of peach lent beautifully with the feta cheese. It has that tanginess. The flavours are brought together with the fennel seeds.
"When you take a bite, the fennel seeds burst open and give it a nice licorice flavour in your mouth. So it's layers of smoothness, little bit texture and then it's like a rainbow of flavours in your mouth. Even the after taste you have a hint of smoked paprika at the back of your tongue after you take a bite of that."
50 ml (1/4 cup) chopped onion
175 ml (3/4 cup) chopped tomatoes, chopped
500 ml (2 cups) canned or frozen peaches (thawed), chopped
Salt and freshly ground pepper
175 ml (3/4 cup) crumbled feta, crumbled paneer, grated cheddar or havarti
2 ml (1/2 tsp) smoked paprika
5 ml (1 tsp) fennel seeds
5 ml (1 tsp) ground coriander
To make chutney, puree ingredients in a blender and transfer to a serving dish.
For garnish, mix ingredients together in a bowl.
Before serving, top chutney with garnish.
Nutrition information per serving: 117 calories; 5 g protein; 12 g carbohydrates; 6 g fat; 2.7 g fibre; 304 mg sodium; 157 mg calcium.
Baked Cauliflower With Cheesy Madras Curry Dip
This is Arneson's take on pakoras, a snack that is traditionally deep-fried. "You take the chickpea batter and you dip your cauliflower and then you deep-fry it. My whole focus is trying to stay away from deep-frying stuff," she says. "With cauliflower, which already has such a great flavour, deep-frying can mask it."
She says her 21-year-old daughter Anoop also likes the cheese curry dip with nachos and chicken wings
1 l (4 cups) cauliflower florets
45 ml (3 tbsp) butter, melted
15 ml (1 tbsp) garam masala
15 ml (1 tbsp) fennel seeds
250 ml (1 cup) plain yogurt
125 ml (1/2 cup) curry paste
250 ml (1 cup) grated mozzarella, mild cheddar, brick or Monterey Jack cheese
Heat oven to 180 C (350 F).
In a large bowl, mix cauliflower, butter, garam masala and fennel seeds. Transfer cauliflower to a baking dish and bake for 30 minutes.
Meanwhile, mix yogurt and curry paste in another baking dish. Spread cheese on top of yogurt-curry mixture.
Bake beside cauliflower for the last 15 to 20 minutes of cooking time or until cheese melts.
Serve cauliflower with dip.
Nutritional information per serving: 281 calories; 12 g protein; 16 g carbohydrates; 20 g fat; 4.5 g fibre; 404 mg sodium; 312 mg calcium.
Palak With Pan-fried Paneer
Kale provides body and texture to this traditional dish, while ricotta adds a creamy finale.
15 ml (1 tbsp) canola oil
250 g (1/2 lb) paneer, halloumi or queso fresco cheese, cut into 1-cm (1/2-inch) cubes
30 ml (2 tbsp) garlic, finely chopped
1 l (4 cups) tightly packed kale, stemmed and chopped
500 ml (2 cups) tightly packed spinach, stemmed and chopped
30 ml (2 tbsp) garam masala
Salt and freshly ground pepper
125 ml (1/2 cup) ricotta or cream cheese
50 ml (1/4 cup) crumbled feta
In a skillet, heat oil over medium-high heat. Gently add paneer and saute until golden brown; set aside.
Meanwhile, in a large skillet over medium heat, melt butter and cook garlic until golden brown. Add kale, spinach, garam masala, salt and pepper. Cook for 6 to 8 minutes or until vegetables soften. Let cool.
In a blender, puree half the kale and spinach mixture with ricotta. Transfer puree back into skillet with remaining mixture and add pan-fried paneer. Gently stir and cook for 3 minutes. Sprinkle with feta and serve.
Note: If the mixture is too thick, add 50 ml (1/4 cup) of water.
Nutrition information per serving: 378 calories; 22 g protein; 12 g carbohydrates; 29 g fat; 3.9 g fibre; 238 mg sodium; 666 mg calcium.
Sweet mango, acidic lemon and aromatic basil are balanced by the salty texture of feta. This can be served as an appetizer or side dish.
500 ml (2 cups) mango (peeled, pitted and cubed)
375 ml (1 1/2 cups) cherry tomatoes, cut in half
45 ml (3 tbsp) lemon juice
1 ml (1/4 tsp) lemon zest
75 to 125 ml (1/3 to 1/2 cup) crumbled feta
In a medium bowl, mix all ingredients together
Nutrition information per serving: 70 calories; 2 g protein; 12 g carbohydrates; 2 g fat; 1.5 g fibre; 88 mg sodium; 59 mg calcium.
Ricotta Rice Pudding With Fresh Berries
This spicy, velvety rice pudding contrasts with the fresh fruit and crunchy almonds.
Cooking: 20 to 30 minutes
500 ml (2 cups) cooked brown basmati rice
5 ml (1 tsp) ground cardamom
75 ml (1/3 cup) slivered toasted almonds, divided
250 ml (1 cup) fresh berries, divided
In a medium saucepan over low heat, add rice, milk, ricotta, sugar, cardamom and 50 ml (1/4 cup) of the almonds. Cook for 20 to 30 minutes, stirring every few minutes, or until thickened.
Place a layer of fresh berries on the bottom of 4 serving glasses or bowls (keep a few as decoration). Add a layer of rice pudding and top with remaining fresh berries.
Garnish with remaining toasted almonds.
Nutrition information per serving: 254 calories; 9 g protein; 34 g carbohydrates; 9 g fat; 3.2 g fibre; 58 mg sodium; 162 mg calcium.
Source: Created by Bal Arneson for the Dairy Farmers of Canada, www.allyouneedischeese.ca/bal.