Nathan Cirillo wasn't alone when a shooter turned his gun on the soldier guarding Ottawa's National War Memorial on Wednesday.
Standing with him that day, at the Tomb of the Unknown Soldier, was his close friend Branden Stevenson, a fellow reservist with the Hamilton-based Argyll and Sutherland Highlanders of Canada.
Postmedia News columnist Christie Blatchford said Stevenson wasn't hurt in the incident.
His family, contacted by La Presse, didn't provide an update on his condition.
Here, Cirillo and Stevenson are seen together just moments before the shooting.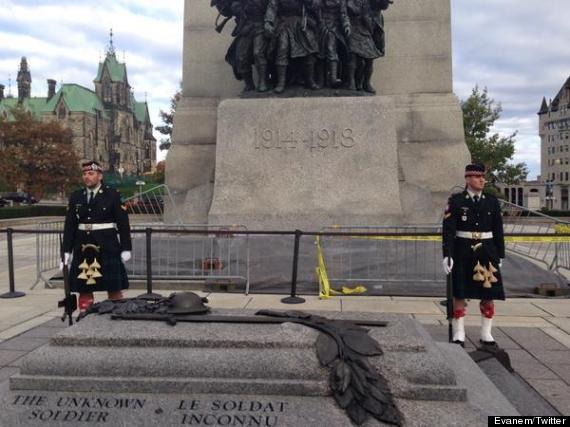 They came to Ottawa on Oct. 13, Blatchford said, and were to go back to Hamilton following Remembrance Day at the memorial.
Lt.-Col. Lawrence Hatfield, the Argylls' commanding officer, told her it's an honour to be chosen as the monument's honour guard.
"We sent our two top soldiers," he added.
Cirillo's Facebook memorial page and his Instagram account show them enjoying great times together.
Here they are driving together a few months ago:
Here, the two men pose with a group that Cirillo called his "crew."
On at least one occasion, Cirillo played a light prank while Stevenson slept.
And here they are together once more, in their military gear:
As Cirillo's memorial page lit up with comments honouring the fallen soldier, there was a flood of messages for Stevenson from well-wishers who extended their prayers.
"Branden prayers for you to find strength to deal with what you have endured," said one user.
"Thank you for your service Branden. You too are a brave man and you will carry a piece of Nathan with you for all of your life," said another.
Like Us On Facebook

Follow Us On Twitter

ALSO ON HUFFPOST: