John Tory, Olivia Chow and Doug Ford attended the last of dozens of debates during the long mayoral race Thursday evening. It was hosted by CityNews.
Transit has been a top issue throughout the race, with each candidate proposing vastly different platforms and funding methods.
Chow wants to build a light-rail transit system in Scarborough, create a downtown relief line and improve bus services. Ford is focusing on building more subways with plans to lay down tracks in Scarborough, on Sheppard and on Finch. He wants to phase out streetcars. Tory has promised to continue building a four-stop subway in Scarborough and use existing Go railways to create commuter trains.
Tory faced questions about how he would finance his SmartTrack rail system if tax increment financing, or TIF — a budgeting plan to pay for current projects with future tax revenue — did not generate enough money.
Tory said that people must have confidence in their plans before they put them forward before voters, and that history shows his system will work.
Chow, however, argued that tax increment financing has not worked in other major North American cities and that "you can't take confidence to the bank."
She presented her transit plan as the most credible because it would provide immediate relief by focusing on improving bus service. But Tory countered by saying the buses and garages needed for her plan do not exist.
Ford asserted that both his opponents' plans would "destroy" the city because they include LRTs, while his focused on building 32 kilometres of subways.
"I'm going to build a world-class subway system," he said.
Candidates also faced questions about cycling in the city and the potential of creating a networked system of separated bike lanes in Toronto.
Chow committed to creating 200 kilometres of networked bike lanes in the city. She attacked Tory for not knowing the difference between a bike lane and a bike boulevard.
Tory, who recently took his first bike ride downtown since his youth, said he refuses to make a promise for how many bike lanes he would put in. However, he said he was committed to filling in the gaps between existing networked bike lanes and to creating bike storage areas at transit stops.
Ford said he and his brother, Mayor Rob Ford, doubled the amount of funding for cycling compared to the previous mayoral administration. The point was disputed by the panellist who asked him the question about cycling.
Each candidate was permitted to ask one other contender a question.
Tory and Doug Ford exchanged jabs, with Tory questioning Ford's attendance and voting records, while Ford put pressure on Tory over his LRT plan. Meanwhile, Chow addressed her question to Tory, saying he'll need another strategy for funding his transit plan when his scheme fails.
Torontonians will be able to vote for their next mayor on Monday.
Advance voting closed Sunday. The city released figures from the six-day period showing that more than 160,000 ballots were cast. In 2010, only 77,391 advance-poll ballots were cast.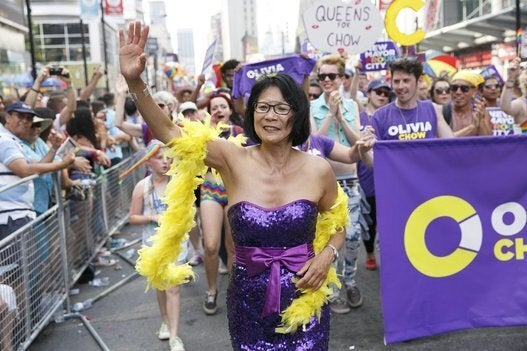 Olivia Chow Through The Years